Emma Matheny brings women's rugby to Westmont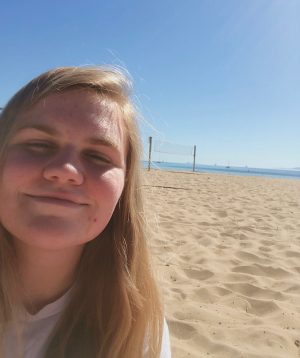 Third-year student Emma Matheny has called many places home. Born in Templeton, California, she and her family have moved from Vancouver, British Columbia, to Dundee, Oregon, to the Bay Area to Manhattan, Kansas. Now, at Westmont, she is pouring herself into the community here in Santa Barbara.
This summer, the wildfires in Northern California turned many homes to rubble, not sparing her grandmother's house in Napa Valley. Having attended high school in Northern California, Matheny says she is familiar with the effects of wildfires. "We got evacuated my senior year of high school because of fires and poor air quality. This is the kind of thing that's almost like it's normal for it to happen, but you never think that your house is the one that's going to burn down."
Along with her grandmother's house, the fire consumed Matheny's car, which contained most of the belongings she had moved from her dorm at the outbreak of the coronavirus. Having just packed a bag of clothes and books to take home to Kansas with her, most of her possessions were reduced to ashes. 
Despite this, Matheny keeps a positive attitude: "When my friend and I pulled up, it was kind of overwhelming, we didn't know what to do, we just started laughing. She looked at me and said, 'With all this ash, you wouldn't be able to tell your car was white.' I'm like, dude, it was black!"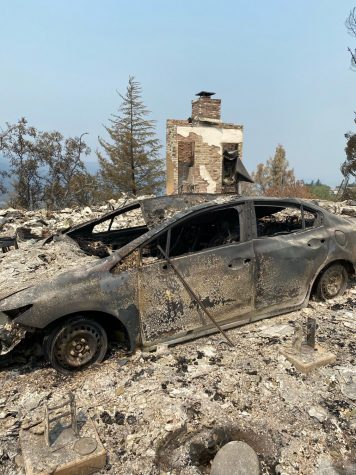 Like Matheny, many of us have had to learn to laugh at the ridiculousness of 2020, a constant line of disasters that has put everyone's life on hold. One treasured aspect of Matheny's life that has been paused is rugby. This sport is one of her biggest passions — she played throughout high school and participated in the women's rugby all-stars tournament, which united players from Idaho, Monatana, California and Oregon. Last year, she had the opportunity to bring women's rugby to Westmont.
She tells the story of how Westmont's first-ever women's rugby club was born: "I knew that Westmont had a men's team. I thought, sometime that I'm here, I wanna start a women's team. Well, my freshman year, I was in weights class and we were doing some workout and I said, 'This is kinda like rucking' [a rugby maneuver]. And this girl goes, 'Wait, do you play rugby?' and I was like, 'Uh, ya!'"
That girl was Westmont student Ashton Kelly, class of 2020. She was playing rugby for the Santa Barbara Mermaids at the time and invited Matheny to come to practice. The two began to build Westmont's own women's rugby team together, recruiting girls to practice both on campus and with the Mermaids. "We were kind of in a building phase and we still are a little bit now especially because of COVID. But we were basically just working on building skills and fundamentals and also to get girls game experience."
Matheny hopes to continue developing the Westmont women's rugby club, offering women on campus a place to strengthen their bodies and their sense of community. Upon graduating with a kinesiology degree, she plans to become a physical therapist. "I got interested in physical therapy because I've had physical therapy. I've had to go three or four times because of sports." Matheny looks to specialize in either sports physical therapy or pediatric physical therapy.