Westmont students reflect on their time in quarantine
She scrolled through her phone, her single connection to the real world. Opening Instagram, she spotted a red circle in the top right corner and clicked to see the new message in the "Quarantine Crew" group chat. Though she could not see people face-to-face, first-year Naomi Siragusa found solace during her time in quarantine by checking in with others in the same position.
A short time after arriving on campus, Siragusa was quarantined as a result of COVID-19 exposure. 
"I was actually eating outside with a group of friends, and one of them ended up testing positive, even though we had our masks on, I was told that I had to go into quarantine," Siragusa said. "My roommate actually left to go home the next day, since she lives nearby, so I ended up quarantining by myself."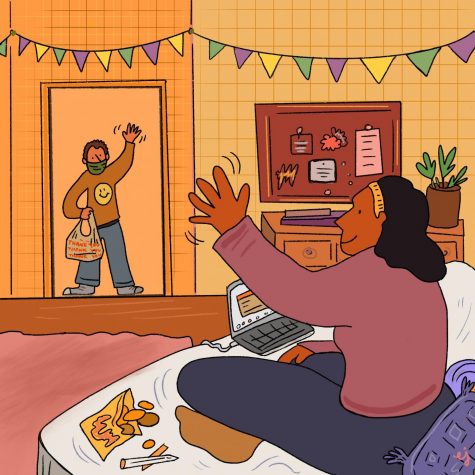 An anonymous student said they were taken by surprise by the news they had tested positive.
"I went to a friend's dorm to drop off some stuff, and I normally don't even do this, but a phone number popped up that was from Santa Barbara, so I answered it. It was from the risk department, and they said, 'Hey, I'm just calling to let you know that you tested positive,'" they said. "That was just such a shock, I was so overwhelmed because I really have been with the same few people — if one of us had gotten it, all of us would have by now. To me, it didn't make any sense."
Though they were not worried about having COVID-19, the anonymous student said they were afraid of what would happen during an extended period of time in isolation. 
"I had a couple friends who went through the isolation process. I've seen the damage that can do to someone's mental health, just being all alone," they said. "There's no accountability when you're in isolation. I could literally just roll over and sleep the entire day instead of going through my daily routine. I think being in a situation like this reminds you how strong your relationships are and how strong you are mentally."
Reflecting on her own quarantine experiences, Siragusa said she wanted to reach out to other isolated students in the future to make sure they felt comfortable. 
"I want to help, but I'm a freshman and there's only so much I can do. I want to make sure people feel loved, comfortable, and cared for while they're in quarantine, not disconnected like I felt," Siragusa said. "It would have been so nice if there was a team to invite me to a Netflix party, get my mail, or take out my trash. It would take a lot of pressure off the RAs if we could just make people feel more comfortable and remind them that we care and remember about them."