Sarah Hoffmeister navigates life as a student and an actress
October 15, 2020
The life of an actor is one of long days, late nights and unforgettable experiences. For first-year Sarah Hoffmeister, this life is a dream come true. From doing theater in elementary school to starring alongside Katie Holmes in a motion picture, she has learned what it's like to navigate the roaring film industry as both a student and an actress.
Hoffmeister was born and raised in Manhattan Beach, just outside of Los Angeles. With encouragement from her mother, she began her career in film when she was eight years old. Initially, she did background work for pictures such as "We Bought A Zoo" and "Iron Man II," testing the waters in an ocean of possibility.
After a year, she got an agent and began auditioning for substantial roles, her biggest part thus far as "Missy Wells" in Andy Tennant's 2020 movie adaption of "The Secret: Dare to Dream." "She was really sweet and would give me advice on being a young girl in the industry," Hoffmeister says about working alongside award-winning actress Katie Holmes. "[Holmes] started her own career when she was about nineteen."
Being on set, Hoffmesiter says, can feel like being a part of one big family. "Everyone's working together to accomplish something that they're passionate about. It's just a really good feeling on set … With "The Secret" everyone was so kind. Everyone just treated everyone like family which was really cool, we all had the mindset that we were equals." 
Growing up as an actress comes with its challenges, however. Throughout her life, Hoffmiester experienced the struggle of balancing work and school, often sacrificing class time for auditions and film shoots. With the support of her teachers and family, she pursued her career in acting and continued her academic education. 
During production, she often worked twelve-hour days, leaving her to carry out her studies independently: "I would have some time on set to do homework in between breaks and things like that but it was a little bit difficult. I had to do a lot of it on the weekends …  It was definitely hard communicating with teachers through email instead of seeing them. But I think now especially, if I were to go and shoot somewhere, that it would be a lot easier for me to get my assignments since everything is virtual already."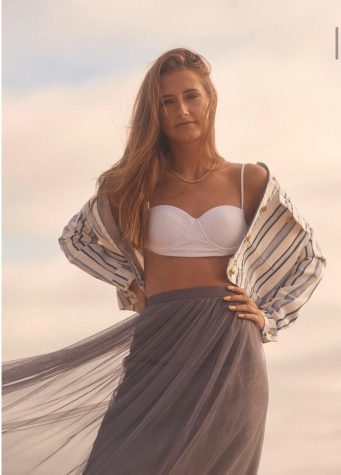 Now a freshman at Westmont, Hoffmeister seeks to further her work as an actress while expanding her horizons by pursuing a degree in history with a minor in film studies. Though she considered attending film school, she was drawn to Westmont's tight-knit community, appreciating the small class sizes and opportunities for meaningful relationships with teachers.
 The relationship between film and history is one that embodies the greatest of storytelling. Hoffmeister elaborates on her passion for history as an actress: "The history major, in regards to acting, it doesn't seem like it connects that much. But if a movie or TV show is a period piece, then a history major might come in handy, knowing about that time period and what was going on." 
With her eyes on the horizon as well as her textbooks, Hoffmiester continues to make great strides in her career. This semester, she has auditioned for Oprah Winfrey's TV drama "Queen Sugar," for "Hotline," a film telling the true stories of sex trafficked orphans, and for  the lead role in an upcoming Netflix original show entitled "Surviving Summer." 
Watch the trailer for "The Secret: Dare To Dream" here! https://www.youtube.com/watch?v=de_NYbCoM2I