City of Santa Barbara takes bold strokes in new Climate Action Plan
As Santa Barbara faces an unusually hot October, the City has been taking big steps to address climate change and sustainability. Last month, the City Council voted to modify the Climate Action Plan (CAP) created in 2012. Among other things, the City hopes to reach complete carbon neutrality by 2035. 
Climate change has long been an important issue in the region. In 1969, Santa Barbara faced a devastating oil spill from a Unocal offshore rig. The following year, the first Earth Day celebration was held locally to raise awareness of environmental issues.
In 2019, The Washington Post published a report documenting the fastest-warming regions in the nation. The stretch of coastline from Santa Barbara to San Diego is one of those hotspots. While the average temperature in the U.S. has risen about 1 degree Celsius annually since 1895, the average temperature in Santa Barbara County has risen by 2.3 degrees Celsius. Environmentalists have long viewed a 2-degree increase as the mark of irreversible damage.
The urgency of the climate crisis has not gone unnoticed among city leaders. In July, the City created a new Sustainability Department. Prior to this year, "the many sustainability-related efforts that the City undertakes [were] spread across many different work groups," said the City's Energy and Climate Manager, Alelia Parenteau. "Our new department will aim to pull all of those pieces of information into one convenient place."
The City plans to publish the updated CAP in early 2021. However, several elements of the updated plan have already been released, including carbon neutrality by 2035, which the City defines as "achieving net zero emissions by removing as much greenhouse gas (GHG) emissions from the atmosphere as we create." They also seek to use 100 percent renewable electricity by 2030. 

These two goals will go hand in hand, as energy emissions play a significant role in the carbon footprint. "The City is in the process of establishing its community choice energy entity, Santa Barbara Clean Energy, which will procure 100% renewable energy for the entire community, which will reduce energy-related emissions significantly," said Parenteau.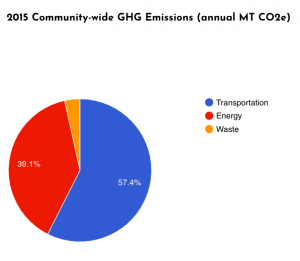 According to the City's 2019 Sustainability Progress Report, "transportation, energy, and waste management are the primary sources of greenhouse gas emissions in the City of Santa Barbara." In 2017, 41 percent of curbside waste was diverted from landfills. Going forward, the goal is to increase that to 75 percent. 
Transportation is the biggest area for improvement in Santa Barbara. In 2019, it was reported that 65 percent of residents commute to work by driving alone. Only 6.5 percent commute via bicycle, despite city efforts to install a network of bike lanes. The city is aiming for 15 percent of the population to commute by bicycle in 2030. 
Parenteau emphasized that transportation improvements will be crucial to meeting the 2035 carbon neutrality goal. "It will really depend on State and Federal action," she said. "The City will be bold and ambitious in our strategies but without state action on transportation, it is certainly aspirational." When asked what Westmont can do to participate in the city's goals, Parenteau suggested finding alternate forms of transportation. "Transportation emissions account for 57 percent of overall emissions … this is where we need all hands on deck."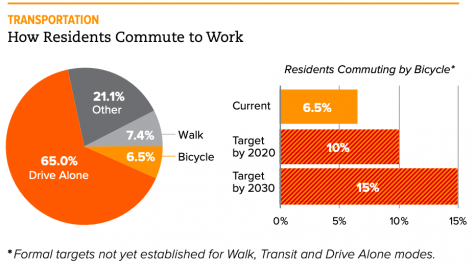 The City is also attempting to address climate justice in the updated 2021 plans. "Climate change impacts are disproportionately felt by our vulnerable populations," the Sustainability Department website reads. "Through fostering community engagement, thoughtful strategy development, and working closely with stakeholders, the City is working to ensure climate justice and equitable resilience for all."
Students and members of the Westmont community can get involved in a variety of ways. The City is hosting an online idea exposition in November to gather community input on how to reach carbon neutrality by 2035. Residents are also invited to join the Climate Ambassador Program, which will assist the City in its goals. More information on the City's climate plans can be found at https://sustainability.santabarbaraca.gov/