Westmont students fear jobs as office drones
Here at the Horizon, the Capstone takes its job of informing students about local Westmont news extremely seriously. In a recent census on student morale, your trusted Capstone team noticed a growing sense of apprehension amongst students regarding the outcome of their expensive liberal arts education, and we took it upon our abundantly capable shoulders to investigate. 
While some individuals hold the remarkable belief that Westmont's new COVID-19 policies are a natural and necessary safeguard for attending college during a pandemic, the large majority of students think that a more sinister force may be at work. 
When interviewing scholars, Capstone detected a pronounced feeling of agitation surrounding many of Westmont's new guidelines. One protest had to do with Westmont's new policy requiring that students chain themselves to their school desk for study time, supposedly for the purpose of preparing them for full-time post-college office work.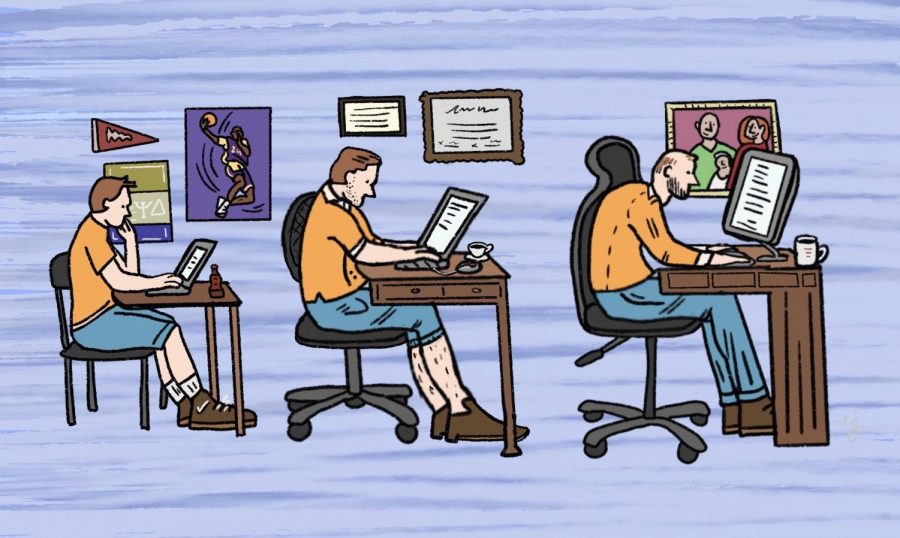 "I must have been crazy to agree to bring my own ball and chain to college," one sophomore exclaimed. "It doesn't make sense for me to be spending all this money on a liberal arts education. I didn't take Philosophical Perspectives to run in the corporate rat race; I want to go out in the world and get a well-paying job as a humanities major!" 
A junior student expressed similar frustrations, voicing her suspicion that Westmont may be trying to disguise a new agenda behind a list of COVID-19 regulations. 
"All of these so-called 'COVID-19' rules seem pretty suspect," she declared. "It sure seems like Westmont's covering for something. I mean, there's all this hearsay that the master plan is to turn students into office drones through exposure therapy. What do you make of that?"
While formal representatives of Westmont College have vigorously denied such accusations, the seed of doubt has already been planted. Many students have even alleged that Westmont has already begun this fearful conversion process deep within the inner workings of the school itself.
The Capstone has heard reports of stone-faced college employees being locked in their cubicles, separated from others by barriers of plastic and plexiglass, enduring hours of Zoom meetings and being deprived of real human contact. It may be too late to save students enrolled in online classes—they have already been subjected to this training program.
The team at Capstone is still working on investigating this grim report and we trust that further information will appear shortly. In the meantime, stay safe, and have confidence in the competency of Capstone's investigative journalism team.