Why monochrome should be your wardrobe staple
Kat Delaney, Staff Writer, Fashion Extraordinare
October 21, 2020
Nothing excites me more than monochrome. Like, nothing on this planet. Perhaps Breeosh's butter croissant comes close, but that is besides the point. I started to really love the idea of monochrome looks my sophomore year for the sole reason that monochrome, in my humble opinion, makes choosing and feeling confident in outfits so much easier.
"
Contrast always catches the human eye, and it is extremely hard to mess up contrast, so no need to fear!"
If you failed to put two-and-two together during my last article shaming Westmont students' fall color palette — with so much love, shaming with so much love — I love color! I love the way color highlights the human figure as we move throughout this world. There is nothing more eye-catching than the twirl of a bright blue skirt, nothing more noticeable than a red silk top, and nothing more confident than a pink monochrome suit with a bright red lip.
So, my dear, sweet reader, what is monochrome?
Monochrome consists of layering one color in either the same shade or in different shades. I tend to fall in love with one color for a season and find myself accumulating a bunch of it. Given the great calamity in the world right now, this season is undoubtedly a blue one. Fortunately for my fashion sensibilities, I have come prepared.
I have pleather sky blue pants, a cashmere baby blue top, and a cobalt pleather vintage jacket recently acquired for this fall season. Worn together, they are my new favorite staples. Another fantastic aspect of monochrome is how professional, yet edgy, this look is.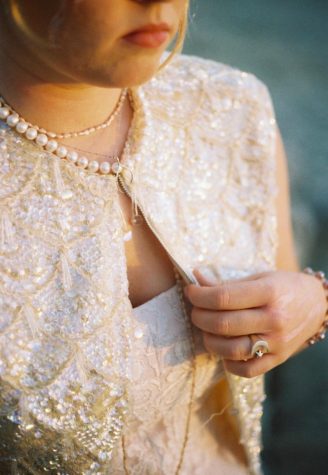 Aesthetically, monochrome is pleasing on the eye. When people think of monochrome outfits, they think of all black — always a classic — but shifting to color, in my opinion, allows people to see more of your personality.
New to this? How do you start? It is easy, my dear reader!
First step: choose your favorite color. I know you have this color in your wardrobe and if not, that is your first mission.
Second step: start looking for pieces of the same color that either match or are different shades of the color. For example, let's say I have a pale pink shirt and I want to do monochrome, but don't want to be crazy noticeable. I would probably look for pants or a jacket that either match the color or are even lighter than the shade of the pink I already have. If you desire to be even bolder, go darker! Contrast always catches the human eye, and it is extremely hard to mess up contrast, so no need to fear! If you are concerned about standing out too much, instead of finding pants or jackets that are lighter in color, go for a dark pink to add more depth to your monochrome look.
Third step: complement your monochromatic choice with additional colors! If you tend to stick to warmer colors, shy away from lighter yellows and choose a marigold yellow, or any color that complements your natural complexion. If you tend to go for cooler colors, look for pieces whose undertones show more blues and purples.
Monochrome is a never-ending hunt. All of the pieces in my favorite monochrome outfits were bought separately and most are not even from the same brand. The search for them is my favorite experience. Accumulating all these pieces I adore and seeing an outfit come together over time is strangely rewarding. So be bold, my dear, sweet reader!