How Westmont and nonprofits continue aiding the homeless community amidst the pandemic
Despite many pandemic-related hurdles in the past months, Santa Barbara's homeless community has begun to recuperate, thanks, in large part, to the continuing efforts of nonprofits and businesses. 
Since March and April, Santa Barbara's homeless population has dealt with the shutdown of many sources of economic and social aid. Businesses are a particularly important resource for people without homes. Rich Sander, the Executive Director of SBACT, an organization committed to ending homelessness by collaborating with other institutions, stated, "People use businesses' bathrooms. A lot of people depended on the scraps from restaurants and food scavenging. When businesses closed, that all went away."
Because of the shutdown, many homeless people lost access to aid from many patrons of businesses. "When all the businesses were shut-down, it was understandably harder for those who made their disposable income on State Street since there were no tourists," stated Fazil Ahmadian, a downtown ambassador for the city of Santa Barbara.
"
City Net has been facilitating, by the request of the city, very intentional outreach on State Street and encouraging individuals to access resources like the rescue mission and PATH, upon bed availability."
— EMILY KOVAL
Sander went on to describe the experience many people without housing underwent: "Suddenly, overnight, all the services people depended on for basic sustainability went away."
Additionally, many nonprofit organizations had to limit their operations due to state and county guidelines. Emily Koval, a program supervisor for City Net, a nonprofit dedicated to eliminating street level homelessness, stated, "There has been an increase in barriers to access health care, mental health services, detox programs, substance abuse programs and limited referral options for emergency shelter and housing programs."
However, some of these organizations were still able to help the homeless. According to Ahmadian, "Outreach organizations helped homeless [people] get their $1200 checks, their unemployment, and … [find] housing."
COVID-19 posed a particular risk for the homeless population because they struggled to access medical care. Koval Elaborated that "The pervasive chronic health issues add another layer of concern when viewed through the lens of COVID-19, as those who are immunocompromised or who have underlying conditions are disproportionately at risk of severe illness and death."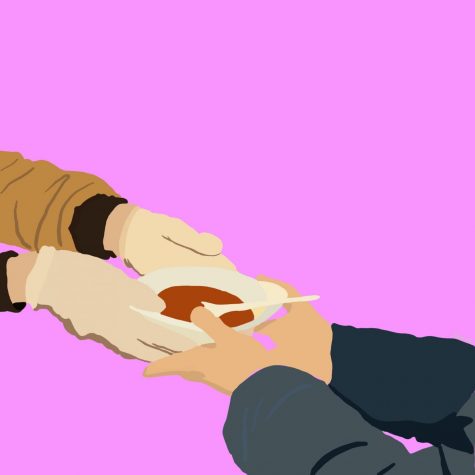 Despite these particular health risks, Sander stated that "there haven't been too many major outbreaks."
Through the months, as outreach organizations have continued their efforts, people without homes have received much of the help they need. Sander described how SBACT coordinated with MarBorg Industries to "provide porta-potties and hand washing stations" for people without housing.
Additionally, groups like City Net have continued to find housing for the homeless population. According to Koval, "City Net has been facilitating, by the request of the city, very intentional outreach on State Street and encouraging individuals to access resources like the rescue mission and PATH, upon bed availability."
The reopening of social and economic centers like State Street has positively impacted the lives of many homeless people. Regarding the reopening of State Street, Ahmadian stated, "It looks like it has helped them [homeless people] make more money because it has brought in a resurgence of tourists from places like Los Angeles, where many areas are still closed."
More businesses means more aid from both patrons and proprietors. Koval explained that "the business owners we do have relationships with have inquired about ways they can assist in order to meet the needs of the community while also being mindful of keeping their patrons comfortable."
Despite these recent improvements in aid, there's still much to be done and many ways to get involved. According to Koval, "When you support City Net, you are directly supporting those experiencing street-level homelessness." 
Sander stated,"With Westmont, one of the things you could do is get involved with Bread of Life. The meal-sharing that happens on Alameda." Bread of Life is an Urban Initiative program that collaborates with SBACT to bring food to the homeless community in Alameda Park. By Sander's estimation, Bread of Life is the best way for Westmont students to get involved in efforts to end homelessness.
If you wish to get involved, Bread of Life meets every Thursday at 5:50 PM in the KSC parking lot outside the Dining Commons. Transportation to Alameda Park is provided. For more information, please contact Katie Conover (kconover@westmont.edu) or Nate Ruble (nruble@westmont.edu).