Westmont community updates: conversations about last week's events
Following last Spring's events centered on race and racism on campus, members of the Westmont community were forced to postpone important conversations due to the pandemic and evacuation of the campus. Now that the majority of campus has repopulated, students and faculty were able to share some of their thoughts during the WCSA event, "Conversations that Matter," on Wednesday, Oct. 14, as well as the ethnic studies minor event, "What is 'Race' and 'Racism,'" on Thursday, Oct. 15. More details on both events can be found here.
"I was glad to see so many panelists who were willing to speak about race, but I will say, I expected to see more staff of color," second-year kinesiology major Jackie Takarabe mentioned. "The two people of color on the panel were Blake [Thomas] and Tori [Davis]. One of which is the director of [ Intercultural Programs] ICP and the other is a student. So I definitely was a bit disappointed to see that there wasn't more representation."
Karis Cho, a fourth-year English major, and her roommates, engineering and physics major Faith Palombi and chemistry major Rachel Schulz, agreed. According to Cho, "The panelists were articulate, thoughtful and well-chosen. However, we wish that there were more people of color — specifically faculty of color — on the panel to speak into that experience and what it means to be a member of the faculty during a time like this."
"
Unity is important, but unity without acknowledgements of pain and different experiences is not real unity."
— KARIS CHO
When asked how she thought this event reflected Westmont's efforts to address the White Jesus movement, the March 2020 demonstration, and the college's institutionalized racism, Takarabe answered, "I always find [Westmont as an institution] either ignoring [racism] or approaching it … for the wrong reasons … I feel like the most assertive answer about White Jesus came from Tori. Therefore, I can't fully say that it was approached head-on, due to the fact that it was a [representative] of the student body that covered it — not a [representative] of the administration."
Tirzah Dove, a third-year studio art major, answered the same question, stating, "I'm encouraged by the fact that WCSA decided to have this conversation about what went on in the spring. These are important topics to be discussed and I feel like Westmont as an institution hasn't really done a whole lot to specifically name them in public."
Dove mentioned some of her thoughts on the panelists: "I appreciated what Blake Thomas and Tori Davis added to the conversation. I also enjoyed the honesty that Professor DeBoer spoke with in relation to the protest. I appreciated hearing the different perspectives that were shared, from passionate to still working through confusion or uncomfortability with what's happening."
Katie Knapp, a first-year religious studies major, reflected a similar perspective: "I have heard that in the past, Westmont as an institution has not done well addressing racism and left the subject alone. Seeing Westmont faculty and students discuss racism gives me hope that we can actually address the problem and create positive change."
Something that stood out to Knapp was that "Blake Thomas was able to break down how racism developed within the church and why it has stuck around."
Brendan Fong, fourth-year sociology major and Business Manager for the Intercultural Programs, also attested to how Blake Thomas and Tori Davis spoke particularly well. "They spoke with deep wisdom and knowledge which grounded the entire conversation … [Tori's] words gave shape and depth to the nuanced experiences of students of color, especially the particular experience of Black students." 
Cho also liked hearing from Davis: "Tori's reflections on how her anger and desire for change didn't develop over the past couple years, but rather over a lifetime, were powerful. When she said that she has been slow to anger because she tolerated injustice for so long, I nearly cried. People may call the White Jesus movement 'divisive,' but I have lived my whole life in division. Being a bicultural student … feels like I'm leading a double life and have been since as early as preschool. Unity is important, but unity without acknowledgements of pain and different experiences is not real unity."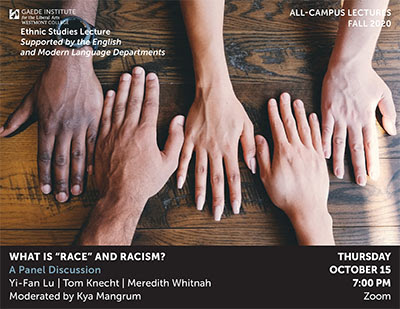 Cho continued explaining the importance of discussing these issues. "When Tori named how important it is to carefully consider the concepts of anger and division because students of color have had to tolerate racism for years, I felt relieved and proud to hear someone say that at an official event."

As for the other panelists, Cho stated, "[Dr. DeBoer] explicitly linking the purpose of the institution to the protest was powerful."
For last Thursday's event "What is 'Race' and 'Racism'?", both Dr. Kya Mangrum, assistant professor of English, and Dr. Meredith Whitnah, assistant professor of sociology, were able to comment alongside the students previously mentioned.
As moderator of the event, Dr. Mangrum explained that "the ethnic studies minor's first event was designed to introduce the minor [to the Westmont community], and to contribute to campus-wide efforts of creating a diverse, inclusive, and just community … The event [What is 'Race' and 'Racism'] introduced keywords and a common language for ethnic studies."
Dr. Whitnah emphasized the importance of defining terms and unpacking concepts, and explained why she decided to participate. "It may sound like an abstract rationale — but it's actually very practical. If we aren't using terms that reflect what we mean for them to reflect, then it will only lead to increased division, polarization and conflict over race and racism."
"We have to pay attention not only to how these social realities work interpersonally, but also how they are formed by dynamic, historical processes and are durable, patterned and unequal … It can be easy to blame society for all our problems, but the reality is that we are society. And so we have choices to make about how we want to engage with one another and build a better — more just, more equitable, more free — world," she continued.
"
I know I'm not alone in this; there are some basic understandings about race and racism that are true across the disciplines."
— DR. KYA MANGRUM
Other departments are also learning how to educate in ways that hear and see students of color. Mangrum noted, "[Some] faculty … are really hearing students' pain and are heartbroken; they want to do more. I think some folks don't know what to do, and I think some folks are overwhelmed about what to do. But I think all of us are trying to figure out: 'In my unique positioning, what do I have agency to change?'"
Whitnah shared some of her hopes for the event: "I hope that students had a sense not only of the importance of deeper understanding of some key terms, but also were encouraged to think about how they could make a difference, particularly in connecting our faith to racial justice … I want all students … to recognize that we all have a role to play and that we must choose to opt in however we are able … We are connected to one another, and we need each other."
Dr. Mangrum expressed what she got from the event. "In terms of just getting to hear it from some of my colleagues … we all seem to mostly agree that although race is a construct, it has real social implications, real historical implications, real cultural implications. So it just felt good to hear other people, who are knowledgeable in fields I don't know anything about, basically say some versions of the same things I know to be true in my own field. I know I'm not alone in this; there are some basic understandings about race and racism that are true across the disciplines."
Cho added, "We appreciated the interdisciplinary perspective that the panel offered, especially as they bounced off of one another and refined one another's comments … The explanation of how racism created race to justify dehumanizing fellow image-bearers of God was scary, but helpful." 
Dove, who went abroad in Asia in fall 2019, remarked, "Last spring, I just returned from a study abroad … I was overwhelmed with what was happening and wasn't able to engage as much as I could've, so I appreciate the opportunities to hear other perspectives and discussions on what has been happening on campus. I hope that this conversation continues and that it will bear good fruit at an individual level and an institutional one."
What other thoughts do Westmont students have concerning last week's events? Brendan Fong answered, "Both of these events were made possible by organizers at Westmont and around the country … [not the] benevolence of those in power or existing institutional structures … [This is a] testament to the years-long organizing work of the Movement for Black Lives, #BlackLivesMatter, Intercultural Programs and dedicated student activists within our own community."
On Monday, Oct. 26th, WCSA will be hosting a follow-up event called "WCSA and ICP Present: Pausing to Lament Racial Injustice in our Church and College." Also, if students are interested in the ethnic studies minor, they should contact Dr. Dinora Cardoso (dcardoso@westmont.edu) or Dr. Meredith Whitnah (mwhitnah@westmont.edu)