Montecito planning to replace Olive Mill intersection with roundabout
October 26, 2020
During the summer of 2018, the city of Santa Barbara's Public Works Department began developing a plan to do away with the notorious six-way intersection connecting the 101 Freeway, Olive Mill Road, Coast Village Road and North Jameson Lane.
The project was inspired by the South Coast Route 101 High Occupancy Vehicle Lanes Project, currently under construction further south on the 101. The goal of that project is to add a high-occupancy vehicle (HOV) lane to the freeway in both directions. In order for that project to be completed, however, the intersection at Olive Mill must be addressed.
Currently, the intersection serves as a hub for those entering and exiting the 101, those driving from North Jameson Lane to Coast Village Road, and those driving up and down Olive Mill Road — a common route for Westmont students driving to and from the Montecito beaches. This chaotic intersection can be a source of stress for drivers, let alone an incredibly dangerous obstacle for pedestrians and bicyclists.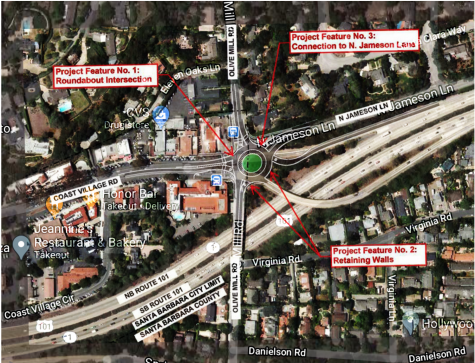 With the addition of a roundabout here, the 101 offramp would be realigned and bike paths and sidewalks would be improved. Not only that, but the flow of traffic would be significantly enhanced.
Though the level of safety would be increased with the planned roundabout, some businesses and homeowners worry that the removal of the intersection and the accompanying trees would also remove the crucial noise barrier they currently enjoy. Living or working right alongside the 101 freeway has the potential to be extremely loud and disruptive, but the current intersection provides a small barrier from the sounds of the freeway.
Given this concern, Noozhawk reported much debate and controversy about the roundabout at the council meeting held in late August of this year. In the end, the project was given the green light.
The city of Santa Barbara and Santa Barbara County are also planning to install a roundabout at the San Ysidro exit off the 101 northbound. Like the Olive Mill roundabout, this project aims to create space for the addition of HOV lanes on the 101 and to smooth the flow of traffic coming off of the busy freeway.
Both these improvement projects will be funded by the High Safety Improvement Program and the State Transportation Improvement Program via federal gas tax dollars.