The do's and don'ts of thrift shopping
October 28, 2020
Thrift shops can be both overwhelming and underwhelming. There is always the chance that you leave with buyer's remorse or with nothing at all. Sifting through a sea of Hawaiian shirts and neon colors can feel more hopeless than getting through the Starbucks line fast enough to get to your 8am on time.
When I first started thrifting, I left empty-handed every time because I had little experience dealing with clothes that are not in the current style. My lack of thrift-savviness actually indicated that I needed to be told what not to wear. Without carefully thought-out window displays, I could not picture anything from a thrift store in my closet.
"
Thrifting can be a small but effective way of cutting waste and becoming mindful of the companies we support."
Many of us can relate to this insecurity. It is convenient to copy a celebrity's outfit and feel good about your decision, but it is difficult to rely on your own preference. Learning to thrift can be a way to get to know yourself better.
We live in a consumerist society where we constantly buy what our influencers wear because doing so requires little thought or effort. I believe we all have the potential to feel good about what we buy without being given a shopping list.
Not only can thrifting knowledge give your closet a creative outlet, but it is also cost-effective and better for the environment. Every time you order something online, the item takes fuel and energy to ship and has to be swaddled in plastic and other wasteful materials.
The production of most pieces from your favorite brands is unethical and done without environmental consciousness. If this topic piques your interest, Kat Delaney talks more about it in her article, "Why it's time to let go of Free People." Thrifting can be a small but effective way of cutting waste and becoming mindful of the companies we support.
As self-explanatory as thrifting is, there are a few helpful do's and don'ts if you are like me and need the extra bit of guidance to feel confident about your purchases.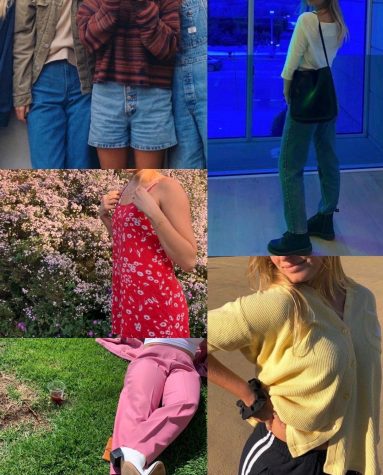 Do: Have an idea of what your closet needs before you walk into the store. The hardest part of thrifting is not knowing where to start. As fun as it can be to find something you did not know your closet needed, it is helpful to pay attention to a particular section — like jeans, so you can find those Levi shorts you have been looking for — rather than trying to conquer every rack.
Don't: Rush. You may be able to walk in and out of Urban Outfitters with the hoodie you saw online in a matter of minutes, but thrifting really does take time. Depending on how big the store is, making your way through piles of unorganized clothes is a significant undertaking if you are serious about not leaving empty-handed.
Do: Develop an eye for patterns or colors. One of the best aspects of thrift stores is the conglomeration of unique and vibrant pieces. Use it as an opportunity to step out of your comfort zone. Buy that overwhelmingly orange sweater over the plain black hoodie every time.
Don't: Buy something just because it's from a brand you love. There are many times I saw my favorite brand's logo and let the excitement of the discovery drive my reason for purchasing the item. However, just because it has the label does not mean that you need it.
Do: Remember that thrifting for fun is a privilege. The ability to walk into thrift stores as a conscious choice to save money, find unique pieces, or aid the environment should come with the awareness that it is a privilege to see thrifting as a fun experience. Make sure that when you go thrifting, you don't take all the sizes in a certain area because many people see clothes as a necessity rather than a form of expression.
Don't: Feel pressure to buy something. Sometimes it is better to leave with one thing that you love rather than ten things that you like.
Sometimes thrifting is pure luck, but these do's and don'ts are a great launch pad for thrifting with intention. If you feel like you are always buying from the same brands and shying away from thrift stores, this might be an opportune time to venture out and rethink your relationship with shopping while being mindful about who you support and how you spend.