WCSA revamps "Take a Professor to Lunch" program
The Westmont College Student Association (WCSA) has added a new initiative to their "Take a Professor to Lunch" program to promote connections between professors and students. This new program, called "Take a Professor to Tea," allows students to meet with professors over tea rather than just over a meal.
According to academic liaison Zion Shih,  the "Take a Professor to Lunch" program is still fully operational. The program allowed students to invite their professors to a conversation over lunch. WCSA sponsors the program, paying for the entirety of the faculty member's meal. Shih outlined the importance of this program, maintaining, "We [WCSA] want to continue creating spaces to connect students and professors and encourage [Westmont students] to engage with our programs in these efforts." 
In addition to the current program, WCSA has added a new initiative titled "Take Your Professor to Tea." Shih, who sponsored the bill, explained that this initiative was passed as an alternative to meeting for lunch. If students invite their professors to tea, professors can request a tea package for their meeting with the students. Jared Huff, the GLC senator who seconded this bill, elaborated, "The Tea program is primarily for those students desiring an online meeting or one that is more flexible in its meeting location and perhaps does not require the removal of masks."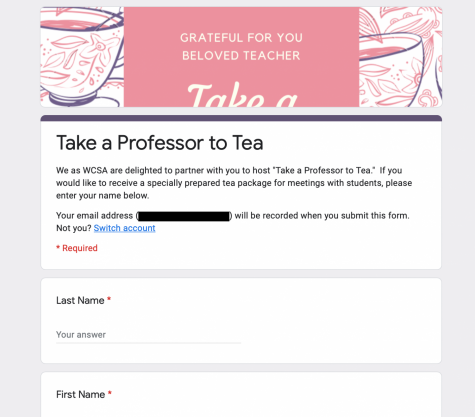 Shih felt it was important to sponsor the new bill. She stated, "As Academic Liaison and grateful recipient of mentorship from professors through our "Take a Professor to Lunch" program, I sponsored this bill to help continue promoting connections between students and our beloved teachers at Westmont." Huff explained that he decided to second the bill because he believed it was a valuable program and that it would utilize the funds already in place.
Students can sign up to take their professors to lunch any time by clicking on this link. Additionally, professors can sign up on this form to receive specialty tea packages for their meetings with students.