Local architects share futuristic ideas for State Street
Last week, the Santa Barbara chapter of the American Institute of Architects (AIA) hosted a two-hour Zoom session where they discussed possibilities for remodeling State Street, the core of Santa Barbara's downtown.
Denny Peikert, an architect on the board of the AIA, commenced the meeting by explaining the necessity of making changes to State Street amidst a pandemic. California is facing an economic crisis on top of a statewide housing crisis, forcing cities to optimize their use of space and to enhance the commercial quality of life. 
Not only will the renovations help bolster the local economy, but many of the suggested ideas will help preserve the environment. For example, plans exist to add solar panels to parking garages, install green roofs, and add more to State Street's landscape, making it more of a park-like experience. The architects also plan to amplify the artistic culture of Santa Barbara by creating a music pavilion and placing art exhibits up and down State Street.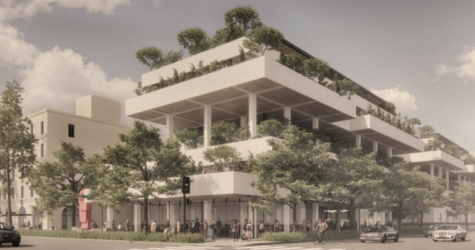 The project consists of 160 volunteer architects dedicated to redeveloping and improving under-utilized areas of State Street, while still preserving the distinct historic style of downtown Santa Barbara.
The participants brought their ideas to life through illustrations of their renovation plans. The organizers of the meeting hope to share their plans with a wide range of decision-makers in the community, from City Council to residents of the city, in order to gain support and funding.
While some ideas seem rather far-fetched, like building sky bridges across downtown, others can be accomplished on a low budget. Many of the ideas were fairly simple, such as opening up the street to pedestrians and reserving the middle of the street for bike lanes, which could improve the quality of residential and business life. 
"A redesigned State Street plays a very significant and central role in the revitalization of downtown Santa Barbara. It is vital in envisioning a future of downtown because the street itself acts as the spine that runs through our downtown center, connecting the two sides of the street and the different districts which make up the fabric of our city," said Roxana Bonderson, a member of the Santa Barbara chapter of the AIA. Downtown Santa Barbara brings in an influx of tourists that provides a very large source of revenue for the city, so improving the downtown area will boost the local economy.