Isla Vista buckles down, Westmont offers alternative options due to COVID-19
The Isla Vista (IV) community boasts a historic fest of Halloween activities every year. With the complications of the coronavirus this year, Westmont encouraged its students to attend a Westmont Activities Council (WAC) event instead of trick-or-treating in the community or joining the parties in IV.
Isla Vista, which houses many off-campus UCSB students, hosts parties for students and community members weekly. According to Raquel Zick, Public Information Officer at the Isla Vista Foot Patrol police station, Halloween results in big weekend celebrations, regardless of which day of the week the holiday falls on. She named several recurring issues brought about by these parties, such as "loud music, fights, thefts and other problems that come with out-of-town guests and the influx of people."
The numbers in Isla Vista over Halloween weekend have declined over the past couple of years due to campaigns by the UCSB Police Department, the sheriff's office, and other organizations to limit the number of out-of-town visitors. However, Zick said this year posed new problems. 
"We also have a pandemic that we're trying to battle in an area that has seen a rise in the number of positive COVID-19 cases, so that's a concern for us," she shared. Isla Vista has seen nearly a 50 percent increase in cases in the last couple of weeks, heightening the tension surrounding a long weekend of partying.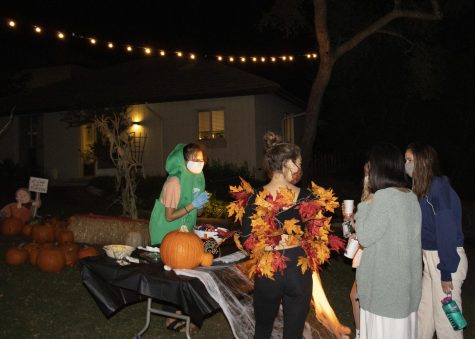 Zick relayed the community's Halloween weekend enforcement plan, which "includes a festival ordinance that went into effect earlier this week, and a public health order about educating the public and reminding them about COVID-19." 
This year's Halloween weekend In Isla Vista had less of a toll than usual, with two arrests, twenty citations, and one incident report taking place between October 30th and November 1st, according to the Sheriff's Office Halloween operation news release. A majority of the citations were for offenses related to alcohol, and the arrests were for public intoxication and driving under the influence, Zick reported.
In order to prevent students from being exposed to an unpredictable area that is also at high risk for COVID-19, Westmont offered alternative Halloween night plans for its students. The Westmont Activities Council organized a Halloween trick-or-treat option around campus, with stations outside of residence halls and candy offered to those who dressed up in costume.
Lindsay Mull, the WAC events coordinator, described Westmont's intent to facilitate safety and joy: "In light of COVID-19, WAC wanted to create a safe and distanced event to build community and mitigate the risk of spreading the virus. We wanted to provide a fun evening for students to celebrate Halloween without having to leave campus and risk greater COVID-19 exposure."
Participants decorated pumpkins, drank hot apple cider and ate free candy. Westmont further contributed to the Halloween spirit by lighting up the front of Kerrwood Hall and decorating the area with fake spiderwebs. Mull summed up the event as a "COVID-friendly way to get students off Zoom and around other people."
In contrast to the Isla Vista scene, Westmont encouraged students to remain cognizant of the ongoing pandemic and attend the WAC event rather than going off-campus, or even to faculty housing, which has been a typical Halloween tradition for students and professors alike.