"Small Enchantments" critiques fairy tales' misogyny
Westmont Theater Department's First Digital Fall Performance
On Friday, October 31, Westmont College Theatre Arts Department live-streamed their first performance of the fall season, "Small Enchantments."
Written by Boston-based playwright Lila Rose Kaplan and directed by Westmont Theater Chair John Blondell, the play premieres near the end of a year filled with racial tension, relational distrust, and governmental fear. Overflowing with whimsical magic, "Small Enchantments" utilizes the introspective lens of fantasy to critique modern-day society.

The production is based upon the fairy tale "The Twelve Dancing Princesses" by the Grimm brothers; only in this adaptation, the narrative is charged with a welcome, third-world feminist lens. Told through independent monologues, the storyline revolves around the varying individual desires and struggles of twelve sisters, women trapped in a castle by their father, the king.
Produced and performed entirely on Zoom, "Small Enchantments" uses an extraordinary combination of art, acting, and special effects, courtesy of visual artist Yulya Duchovny, to create a composition that reflects this unique historical moment.
The music is composed by Westmont senior Alex Gabriel, using a new, non-lyrical vocal technique and startling dynamics to provide the perfect backdrop for this story of interest and intrigue.
Director John Blondell personally requested that Kaplan write a play specifically for Westmont's theatre department. In an interview released prior to the play's premiere, Kaplan stated her ambition of writing authentic stories about women, a goal beautifully realized in her latest creation.
An intelligent self-awareness of society's duplicity regarding gender is on display throughout "Enchantments." As the eldest sister, Dorothy, portrayed by Sam Stroming, introduces herself and establishes the driving motivators of the play's storyline, she deplores the faulty narrative of the damsel in distress that is fed to young girls through stories and history. Dorothy's protest is further developed by the independent soliloquies of her eleven sisters.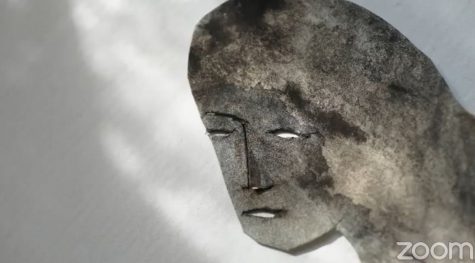 This view of societal injustice is enhanced by the distorted imagery created by Duchovny. Every sister has their own unique Zoom backdrop, an exquisite delineation of character that helps express their individuality.
While each princess is different, with her own unique dreams and visions of justice and equality, the sisters find their paths intersecting in many different ways. When Grace Schurz's character Harper changes clothes with a guard, her sister Sylvia, played by Ashley Rain Martinez, does not recognize her and thinks she is being chased by a guard. Likewise, when the violent passions of Emiliana Brewer's character Agatha start to get the best of her, her younger sister Frankie, played by Jessica Yost, soothes and pacifies her.
At the end of the play, this message of mutual support is fully realized when the sisters must discover how their separate personalities can support one another. As Kaplan writes, women are small enchantments apart, but together they are powerful, "a title wave of change."
This strikingly candid expression of human strength is a testament to the beautiful intersection of talent that forms the play. "Small Enchantments" is a fairy tale for this generation, one teetering on the edge of understanding the systemic injustices of our own society. Watch it now on Westmont Theater's Facebook page.