Biden wins after mail-in ballots shift initial projections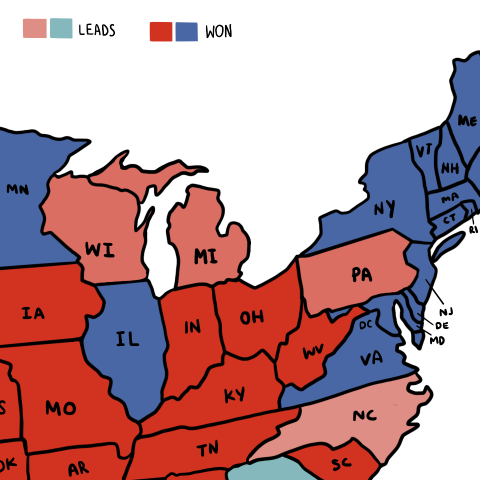 Since Election Day on Nov. 3, several key states that had President Trump leading in votes, swung left as mail-in ballots were counted. Michigan and Wisconsin, in particular, exemplified this phenomenon.
On Wednesday, The Associated Press declared former Vice President Biden the winner of these northern states, which had voted for President Trump in the 2016 election. By Saturday, The Associated Press called Pennsylvania for Biden, flipping another state that Trump had been leading in on Election Night, and handing Biden an electoral college victory.
The delayed arrival of mail-in ballots in these states and others is the major factor in the shift from red to blue. President Trump encouraged his supporters to vote in person while President-elect Biden endorsed early voting by mail, thus leading to a Democratic lean in mail-in ballots.
The process of counting mail-in ballots is also the main reason for the delay in determining the results of the presidential election; Nevada and Pennsylvania did not finish counting votes until Nov. 7, after which it became clear that Biden had won. Georgia and North Carolina have not yet declared a winner. Absentee ballots, which are able to be counted after Election Day in many states if they are postmarked by Election Day, may also play a role in the extended waiting period.
Mail-in ballots are not typically the primary source of votes, but with the COVID-19 pandemic, some states opted to provide voters with mail-in ballots to protect those who don't wish to venture out to polling places. Overall, 12 states allowed people to opt for a mail-in ballot and 10 other states, including California, sent out mail-in ballots to all voters. Many of these states are only using this strategy for the November 2020 election, according to the National Conference of State Legislatures.
In Santa Barbara, this year's election was the first in history where all registered voters received a mail-in ballot, although some opted to vote at polling locations. The Santa Barbara County website released semi-official results by the end of election night, but incoming votes continued to be counted through the week.
For more on the 2020 election, take a look at our live coverage of the past week.