Westmont Proposition Voting Results
Election Day has come and gone. The Capstone has compiled Westmont election results for you, summarizing what the student body of Westmont voted on this year.
First off, and most importantly, the position of Campus Spiritual Guru goes to Henri Nouwen, who credits his landslide re-election to his campaign slogan of "Bark bark bark, woof bark bark."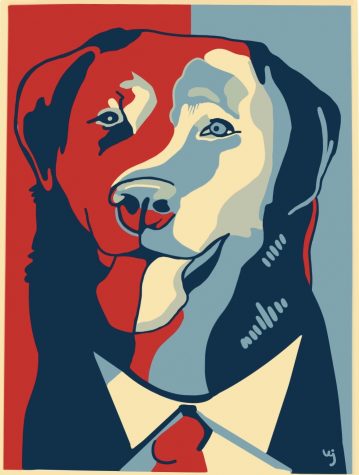 Now, for the Westmont propositions, which you clearly remember voting on. Proposition 1 has passed — the pond previously known as the "DTR pond" has been renamed the "BS Pond," or the "Bible Study Pond," as it is a great place to do one's daily devotional.
Next, just barely squeaking by, the Westmont community passed Proposition 2: to permanently move all DC dining outside even after COVID-19 restrictions lighten up. The proposal was meant to encourage students to be outside more often, rather than only getting sunlight as they walk from the DC, to class and to their dorms. With classes largely moved online, students are getting much less outdoor time than normal. Westmont students and staff are excited for the change.
Proposition 3 has also passed. In light of recent events, like a pandemic, Westmont health experts predict that the annual Page Plague will be more intense than in previous years. Due to this discovery, Westmont students and staff have unanimously voted for required mask-wearing during the flu and cold season every year, regardless of the duration of the COVID-19 pandemic. The Westmont community would rather not be at the center of yet another disaster.
The final proposition, Proposition 4, aimed to make the dissolution of four-day a permanent change. A unanimous favorable vote indicates a warm and agreeable acceptance of this decision, and the Capstone has only heard positive remarks from students about the upcoming full Thanksgiving week. Due to the passing of this measure, along with the overwhelming support shown in this recent election, Westmont will no longer have a four-day holiday for the indefinite future.
The Capstone would like to send a warm thank-you to the seven students and 46 faculty members who participated in this year's voting season for making all of these important decisions.