Gradient Community: The unofficial official group for LGBTQ+ students
Gradient President Chris Hanessian shares some insight on what it means to create a safe space for students who identify with the LGBTQ+ community on a Christian campus.
What does it mean to find a safe space on a Christian campus as a Lesbian, Gay, Bisexual, Transgender, Queer and more (LGBTQ+) student? As Westmont students critically reflect on their sexual and gender identities during a time of identity formation, this can be a difficult question for those who identify themselves as part of the Westmont community. 
"
It is not always easy existing in a place that might feel against you, but that is why the club is there."
— CHRIS HANESSIAN
Yet, with the help of Gradient, the unofficial-official LGBTQ+ student group on campus, students can anonymously reach out and find solace in a safe and comfortable place. As stated on their Instagram, this year's leaders are the following: President Chris Hanessian, a transfer psychology major and member of Westmont's cross country and track team, Vice President Emily Herbst, a fourth-year biology and Spanish double major, and Noah Argao, a senior social science major with an emphasis in political science.  
According to Chris Hanessian, the student group was created years ago by LGBTQ+ students who wanted to form a safe place. Hanessian expressed that, even though the founders weren't vocal about the group's creation, they paved the way for future members. He said, "The previous president, Emma Wade, created an official Instagram account and set up meetings, which made it bigger than it ever was."
What does a Gradient meeting look like? According to Hanessian, it's all up to what the members want to do. These meetings can go from joking around and listening to music, to talking about serious topics like sexuality and faith, coming out, and queer representation in the media. Either way, the group meets in secret for confidentiality reasons. "It is not always easy existing in a place that might feel against you, but that is why the club is there," Gradient's president added.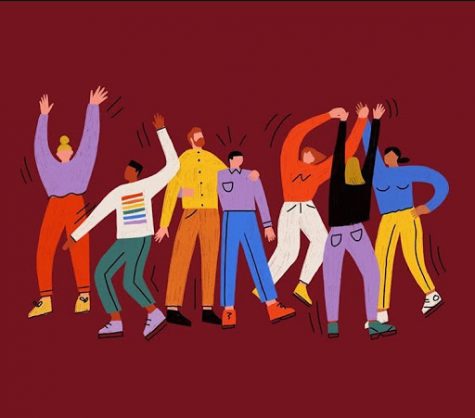 Being an informal LGBTQ+  student group at Westmont College is not easy, especially since the unofficial-official group does not fully conform to some aspects of the community guidelines and commitments.
However, Hanessian remarked that, despite some inevitable discord, "Westmont has been very supportive of our mission and has worked with some of us to create a program … for LGBTQ+ students called Nexus."
This year, the group aims to be more visible. "We feel like we are making strides more than ever before just because we are showing ourselves unapologetically and forcing a space and voice for ourselves at Westmont. It is not fair to assume LGBTQ+ do not exist at Westmont and not give them the resources they deserve, and we want Gradient to be the place for them to feel loved and valued. To anyone that is having questions about their sexuality: be yourself, love yourself, and don't be afraid to own it." 
For more information about Gradient, you can either find one of the posters around campus, follow them on Instagram (@gradientcommunity), or even message Chris Hanessian at (805)-210-0294. Meeting locations and times will only be provided through text and direct messaging to ensure confidentiality and safety.