"Natural n Poppin": Zelmya Taylor promotes confidence and empowerment
When COVID-19 hit the United States this past spring, institutions across the country, from restaurants to rec centers, temporarily closed shop. Many establishments adopted strict safety regulations to continue operations, yet many close-contact services became unavailable all together.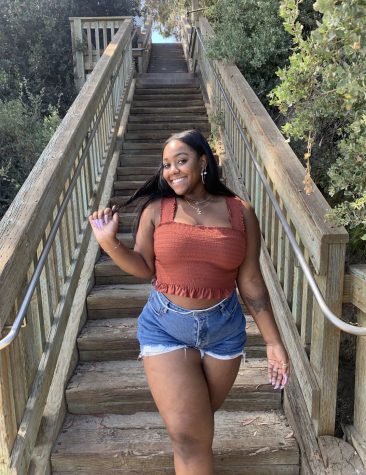 This wave of shutdowns did not spare America's beauty salons, leaving people to fend for themselves in finding beautification. Zelmya Taylor, a third year biology and pre-med major, welcomed this challenge, and has since found a passion for nail and skin care.
"When quarantine hit, I realized, 'Wait, I can't get my nails done!' So I thought, well, I don't have anything else to do, I've just finished classes, so why not get the stuff on Amazon and see if I could do it?" With her new tools in hand, Taylor spent her time at home in Pasadena studying the art of the manicure online and testing her skills, first on herself and then on her family, as well as a few lucky friends.
"I feel like with nails, it's such a nice way to express yourself," Taylor says. "It's a step up from wearing something different but a step down from dying your hair. Like if you want to try a bright color for a couple weeks, just get it on your nails and it's not the end of the world!" Since the start of her nail design journey, Taylor has developed a colorful portfolio, which she posts on her Instagram account @zelznailz.
Though the pandemic has offered Taylor the time and space to practice her craft, it has also kept her from expanding her business. "I haven't done many people's nails at Westmont yet, because, with COVID, I'm trying to know what the proper way to make sure everyone's safe is. I want to keep everything very safe and be mindful of what's going on right now."
Despite the uncertain future and current limitations, Taylor aspires to further her business and is in the process of obtaining her aesthetician license. "With this you can basically learn all things nails … once you get that, you're able to get paid for your services. So when I do get my license, I plan on either having a small business of my own or maybe renting a booth at one of Santa Barbara's nails salons."
Though beautification is a passion of Taylor's, her life ambition is to become a doctor. "Totally opposite," she says, regarding her nail work and her pre-med track. "One is artistic and one's in the books … This is definitely a side hobby. My career choice is wanting to be a doctor and go to medical school, so this is definitely something I do on the side to kind of get a break from studying and be able to get creative."
Zel's Nails is not Taylor's only side project. She is also the recent founder of Natural n Poppin (@naturalnpoppin), where she sells a variety of all-natural homemade balms, scrubs, creams and more. At the core of both of Taylor's operations, however, is the desire for everyone to feel good in their own skin. 
"I just want everybody to feel happy and comfortable in their own skin and just feel so empowered and confident with themselves. When they're walking to the DC, you know, they have their nails done and they feel comfortable in their skin because they're not putting a bunch of chemicals on it — they're using natural products and they can see the difference. I want everybody to feel, you know, poppin'!"