Westmont's connection to the Santa Barbara County Health Department
An interview with Susan Klein-Rothschild
The best way to fight COVID-19 is with slices of swiss cheese. Imagine that each layer of COVID-19 protection is a layer of swiss cheese. The first layer is proper masking. The next is social distancing. Then, cleaning and disinfecting. The last is handwashing. Each layer of protection reduces the likelihood of a person contracting COVID-19, but each layer also has holes. However, when the layers are put together, they adequately fill any holes that one layer was missing. This is how Susan Klein-Rothschild describes COVID-19 protections.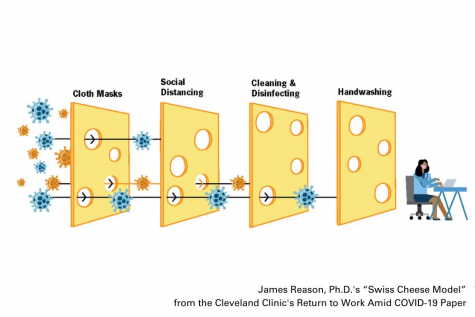 Klein-Rothschild is the liaison between the county of Santa Barbara and the schools in the county. She has worked for the county executive office since May. In the past, she served as Deputy Director of the Santa Barbara County Health Department.
Klein-Rothschild works with schools at various levels, whether they be K-12 schools, childcare providers, or colleges like Westmont. She has worked with Westmont in the past, especially when fires threatened the campus. She visited campus to determine whether Westmont's shelter-in-place order was as sound as the alternative: evacuation. Klein-Rothschild remarked, "We've always found Westmont to be responsive and a good partner."
When planning COVID-19 strategies, Klein-Rothschild met with Director of Institutional Resilience, Jason Tavarez, and members of the E-team, including President Gayle Beebe. Concerning Westmont's initial reopening, the team had to ask the following questions: What do we see, what do we think is coming, and how do we open in a safe way?
Today, discussions surround dealing with COVID-19 while transitioning into a season of festivities and cold weather. Klein-Rothschild remarked that colleges are trying their best to adapt to these new conditions: "I have found Westmont to be extremely responsive and interested in knowing the science and doing what's best for their students and their staff. I have not found any of our local colleges not wanting to do that."
In addition to working with Westmont, Klein-Rothschild works with institutions like the University of California, Santa Barbara (UCSB) and Santa Barbara Community College (SBCC). Klein-Rothschild observed that "the colleges around here are doing everything differently." However, a rise in cases and the county's reentry into the purple tier have troubling implications. "By all age groups, the largest number of people who have tested positive for COVID are 20-29 years old."
With young adults having such high positivity rates, looking at colleges is more important than ever. "Even though UCSB is implementing good practices and thoughtful guidelines … there are a number of students who live in Isla Vista, who may go to SBCC or may go to UCSB … [who] may not be following guidelines. That's been more of an issue. If we're looking at where cases are being transmitted in our county, many of those cases are through gatherings, through parties. And I don't just mean college student parties. I'm talking about family gatherings and getting relatives together. When you have more people together, you have more risk of a superspreader event."
Most colleges in the area have done well trying to enact COVID-19 restrictions. "I think all of our colleges and our schools have really worked diligently to understand the guidelines and apply them in a safe manner. No one wants to be the source of transmission of COVID." 
One unique aspect of Westmont's safety precautions is the Community Covenant. Klein-Rothschild praised Westmont's commitment to using such a contract. "I think that helps everyone reflect on a basic expectation and each person taking responsibility. I'd love to see that more broadly in our whole community."
As we move into the holiday season, Klein-Rothschild is very concerned about the increase in cases. "We have seen how quickly the numbers can go up just as quickly as they can go down. So, I'm imploring everyone now: this is the holidays, this is the time when people gather, gathering is very risky for transmission. We cannot let our guard down."
COVID-19 restrictions only work if they are all observed. While one slice of swiss cheese helps a little, the virus will only be stopped if all the slices are stacked together.