"Studying" for your final exams best practices
Finals time is here! We all know what that means: extra studying, late-night cramming sessions, and absolutely zero free time. That's why everyone you meet around campus during this time of year will have a joyous smile on their face and will appear so relaxed. In an effort to be helpful, your Capstone team has taken time out of their busy schedule to come up with some tips and tricks to successfully flunk your exams and enjoy it, because exams should be fun! 
First of all, if you have a "live" exam via Zoom, you won't want to be spending a lot of time studying for it. Instead of doing silly things, like drawing up a schedule for yourself and resolving to stick to it, exercising regularly and eating healthy, feel free to be a bit more lax. 
Apart from writing up some notes, you don't need to spend much of your valuable time studying at all! Instead, tape your notes to your webcam so that you can easily read them during the exam.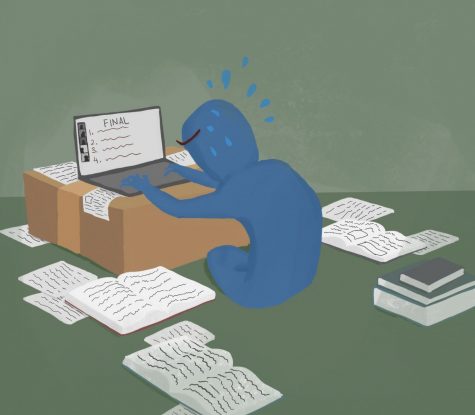 However, if you don't want your computer screen cluttered up with paper — a perfectly natural preference — another option is to write down your notes on your forehead so that you can read them in your webcam. We promise, your professor will find it completely natural to see a student with bold black letters scrawled on their forehead in the Zoom gallery. 
Despite these strategies, many students will not be able to avoid studying at least a little. The good news is that there are still ways to make your education enjoyable. 
If you are a physics student, an excellent option is to spend all of your free time on YouTube watching kitty videos. By constantly studying these dynamic creatures, you will undoubtedly learn a great deal about velocity and magnetism. 
On the other hand, if you are an English major, the "Calvin and Hobbes" comics are a valuable resource for multiple reasons. The obvious link between the technical art of writing a comic book and composing an essay will be clear to anyone reading this article, so I will not discuss it here. Suffice it to say, by examining the rich lives of the characters and considering the deep, existential questions the series regularly asks its readers, you will be doing yourself an invaluable service.
The year 2020 has been difficult for all of us, and as it draws to a close, hopefully these tips will relieve some of the stress in your lives. Your Capstone team would like to wish you all a marvelous holiday season, and we hope you will carry the proactive spirit this article imbues you with into the new year. Merry Christmas!