A look at the past nine years with provost Mark Sargent
After nine years serving the Westmont community, Dr. Mark Sargent, the school's Provost, will retire at the end of the fall semester. Through numerous community challenges—including fires, a debris flow, and a pandemic—Sargent's stewardship of Westmont has yielded the expansion of academic curriculum, outreach initiatives, and global programs.
Sargent came to Westmont in 2012 after careers at the University of Utrecht, Biola University, Spring Arbor College, and Gordon College, where he was also Provost. While at Spring Arbor College and Gordon College, Sargent helped start global education programs. "One of the things I've enjoyed most about my career is working with global education and starting programs around different places … I've done that at three different colleges."
As provost of Westmont, Sargent has helped organize, guide, and direct every aspect of academic instruction. He has worked with faculty from every department, and has particularly enjoyed engaging with diverse fields of study. Sargent attributes Westmont's overall academic excellence to this quality, saying "I love the fact that there's a wonderful interdisciplinary spirit at Westmont … We're not narrowly isolated in our particular departmental corner … It's generative for good ideas [and] it's generative for good teaching because we learn from each other."
Sargent's passion for interdisciplinary cooperation is appreciated and emulated by the faculty he oversees. Dr. Alister Chapman, who worked with Sargent as vice-chair of the faculty and vice-chair of the Academic Senate, remarked on Sargent's graciousness as a leader of the faculty, saying, "Dr. Sargent is a collaborator who listens to the people who work for him, picking up good ideas wherever he comes across them and then implementing them for the good of all." 
"
Dr. Sargent is a collaborator who listens to the people who work for him, picking up good ideas wherever he comes across them and then implementing them for the good of all."
— DR. ALISTER CHAPMAN
Students echoed praise for Sargent's collaborative capabilities. Zion Shih, a representative for Westmont College Student Association (WCSA) notes Sargent's "openness to listen and incorporate proposals that the faculty are working on." As provost, Sargent primarily worked with faculty, however, Shih remarked that Sargent has involved himself with the student community as advocate for the Students for Sustainability club.
Dr. Deborah Dunn, department chair in the Communication Department and former director of Faculty Mentoring, further applauds Sargent's character and competence, saying "Students may not fully appreciate this—but I think many faculty valued being treated like 'grown ups' and equal partners in planning. He is a good listener, a careful thinker, and is usually two steps ahead of the rest of us."
Echoing Dr. Dunn's statement, Dr. Steve Julio, former vice chair of faculty and professor of biology, praised Sargent for his commitment to the faculty and their curriculum. "He is 100 percent all about making sure faculty can flourish … Mark has this special way of connecting with the faculty, so that you know that he's doing the best that he can to make sure we do our jobs well. I think that's going to be the lasting legacy of Dr. Sargent." Julio continued by explaining how encouraging it is to have a provost who balances the goals of the administration with the needs and goals of faculty from 18 different academic departments.
During his time at Westmont, Sargent has proven invaluable to both the faculty and fellow leaders on the executive team. President Beebe stated, "Mark is highly competent, so you get a number of things done without even having to think twice about them … he's part of an executive team that's incredibly effective."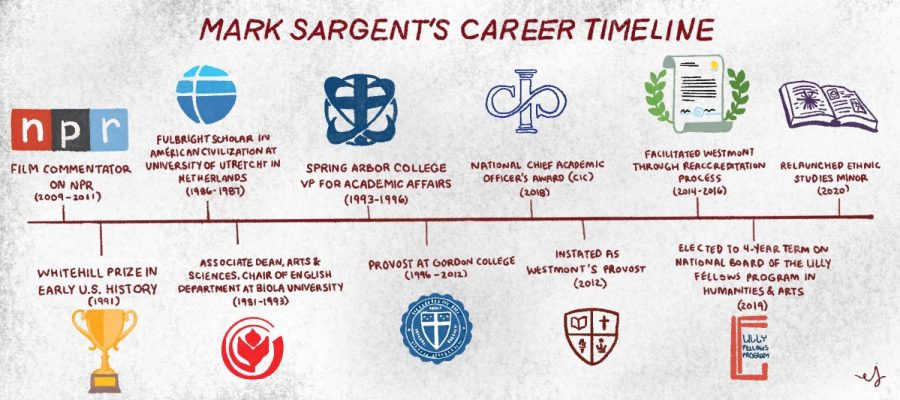 One of Sargent's goals from the beginning of his tenure at Westmont was the expansion of the Westmont community. "I really wanted to cultivate a community, particularly within the faculty, where there's goodwill and trust and some creativity and some laughter." Sargent has helped hire an estimated 40 faculty members to cultivate and improve this community. Furthermore, over the past nine years, Westmont's presence in Santa Barbara and abroad has grown under Sargent's leadership, through the establishment of Westmont Downtown.
In addition to furthering Westmont's global programs and local community engagement, Sargent orchestrated Westmont's recent reaccreditation. This was one of Sargent's goals when he entered the role of Provost, as, "It was very important for Westmont to strengthen its relationship with the accrediting body."
"
I have some topics I want to pursue … I've accumulated lots of things I've written over the years about Christian higher education. I would like to work with some of that material. Expand upon it, refine some of it."
— DR. MARK SARGENT
As a final gift to Westmont, Dr. Sargent wanted to help the students during the finals season. WCSA has announced that "Provost Mark Sargent has agreed to be the 'staff' on site in the library on the Sunday before finals … keeping the library open for study is one of his final gifts to the student body before he goes. He will be there from 6:00pm to 1:00am … In addition, he will bring scores of books from his office that he will be glad to give away to students."
After leaving Westmont, Sargent anticipates furthering his passion for global education with his wife, Arlyne Sargent. "This will give us an opportunity to share some things together that my time as provost has kept me from fully being able to do … We've envisioned the possibility of teaching overseas together." Among the numerous places Sargent may teach, he considers England, Italy, Uganda, and Latin America exciting possibilities.
Besides education, Sargent also looks forward to furthering his own authorial career. Over the years, Sargent has contributed to numerous works on higher education and historical American Literature, his field of expertise. Sargent commented on this process, saying, "I have some topics I want to pursue … I've accumulated lots of things I've written over the years about Christian higher education. I would like to work with some of that material. Expand upon it, refine some of it."
While Sargent fulfills these goals during retirement, his absence will be missed at Westmont. Dr. Chapman sums-up these sentiments well: "He will be missed for his gracious leadership and the way he was a strong voice for faculty concerns on the president's Executive team. The faculty will also miss the many ways that he injected humour and fun into our meetings." Whatever his next pursuits, Westmont will miss Dr. Sargent for his passion for learning, his care for faculty and students, and his desire to improve and strengthen the community.

When asked to reflect upon his years of experience, Sargent briefly described what he will miss about working at Westmont: "Community. A sense of being in community. And friendship. Discovery. Curiosity and discovery … Joyfulness. There's been joyfulness. I've loved working with my academic leadership team because we laugh a lot. We enjoy working together and laughing through the challenges."

To read about who will fill the provost position, check out this news article.
About the Contributors
Wesley Brown, Features Editor
Wesley Brown is a junior Mathematics and English double major who loves good tea and dogs
Ella Jennings, Graphics Editor
Ella Jennings is a sophomore Art and Psychology double major who adores espresso and spending time with friends and dogs.