Use your Personal Protection Equipment to make a fashion statement
Kat Delaney, Staff Writer, Fashion Extraordinare
January 27, 2021
Welcome back, dear readers, to your Westmont fashion column.
As I consider this new semester, I wonder how I can advise you in more crucial fashion advice? I hope your wardrobe is as versatile as our classroom locations. We here at the fashion column are taking all our content from last semester's fashion and applying it with a twist. The twist? Comfort. There are three things that have become increasingly apparent as the semester has started. In the midst of COVID-19, lounge wear on campus has popped off! Mask fashion is not going anywhere — if anything, it is becoming more artistic — and, most surprisingly, baggy crew necks are back.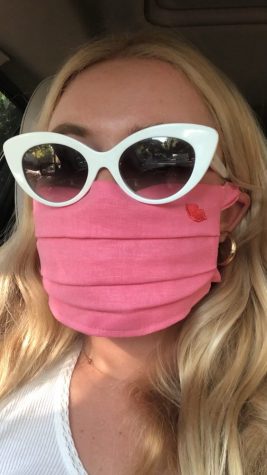 Mask Fashion
So, let's be honest: the mask you wear says so much about you. Are you the cool bandana person who probably surfs C street and always wears Blundstones? Are you the person who has a mask to complement every outfit because why would you want your mask to clash with your clothing? We all know that person who says I-don't-have-time-to-look-put-together-so-I'm-throwing-on-a-nonreusable-mask-and-I-hate-the-environment person. (We love you, but don't forget to cut the straps when you throw it away). Or are you the sweet little masker who wears a Westmont mask because style means nothing to you? (Just kidding … kinda.) Whatever kind of mask fashion you are into, I am proud of you! Stay safe and find moments to relax. I am just as eager to hang my masks up for good but, until then, experiment with your mask style! You never know how a mask can really pull together an outfit, just saying. For instance, have you ever tried matching your mask to the color of your nails? Total win.
Oversized Crewnecks
From my observations of the ups and downs of fashion trends, the 2000s are about to make a huge comeback. Although I would really prefer that some things stay in that era, oversized crew necks are not one of them. They are effortlessly cool and comfortable. They come in the cutest colors and will work with virtually any look. I highly recommend buying some cute ones off Depop before they all become overpriced, like tennis skirts did.
Matching Sets
This is a trend I could not get behind until I tried it, but once I did, I was so hooked. There is nothing more satisfying than looking put together in either an athleisure set or a comfy set that matches. You literally put in no effort and look so good. 10 out of 10, would highly recommend it.
As a final word, dear reader, I am so excited to venture into this semester with you. I am very hopeful for fashion creativity in the midst of COVID-19. It's so important to take care of yourself during this time and, I've said it once and I'll say it again, fashion is an act of self-care.