"Sun of a Gun!": Selah Tennberg creating sweaters and imaginative flow
With the recent gloomy, rainy, cold weather, students appear less fashion forward as they try to dress warmly. Living in Southern California has only prepared Westmont students for consistently warm temperatures. However, the weather will throw a curveball of randomly cold weather and maybe a sprinkle of snow. Or was it hail? 
Despite the general unpredictability of recent weather, second-year art major Selah Tennberg teamed up with fellow second-year art major Morgan Sailer to create cute and trendy sweaters that will keep students both warm and stylish.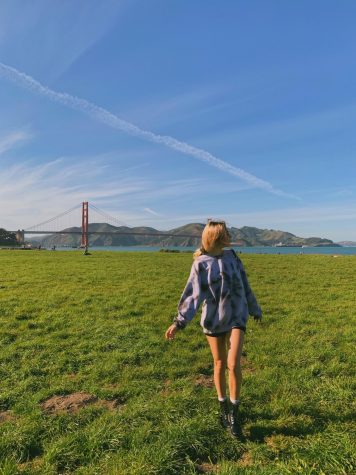 Tennberg has travelled from one sunny beach town to another. From the north shores of O'ahu, Hawai'i, Tennberg finds that creativity sprouts all around her in her small but close-knit community. Surfers, creatives, and spirited people surrounded Tennberg, showing her how to love her home and, specifically, the ocean that surrounds them. 
"I was always taught to be very appreciative of the world around me."
After her move to Santa Barbara, Tennberg found herself looking for the next great adventure as her way to connect to home. 
"I try to make time to adventure as much as possible at Westmont because that's what I do when I'm home."
With her high-spirited love for the spontaneous, Tennberg collided with Morgan Sailer, who became her greatest adventure buddy and friend.
"Morgan is the best adventure buddy, always down for a last-minute road trip or exploration to find hot springs or ruins."
The two will regularly go surfing or hiking for hours. 
"I don't think I could survive a single day not fully immersing myself in nature. I mean I could, but those aren't my best days."
From their first collision, their two personalities meshed to put more creativity in the world. Tennberg describes their relationship to be very in-sync and, because of that, they are able to bounce ideas off of each other. These bouncing ideas inevitably merge together into something more exciting — like a new sweatshirt business. 
"
I wouldn't have done this if I hadn't met Morgan … This whole fun business was birthed right in our dorm rooms and initially created in the bathrooms of Emerson."
— Selah Tennberg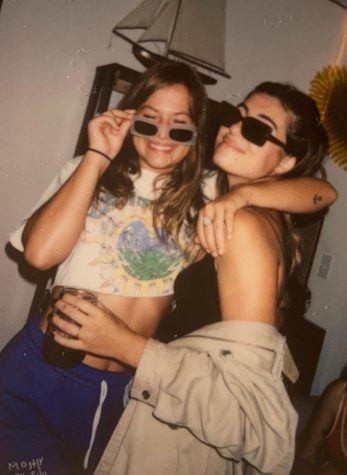 When COVID-19 hit, a lot of students and faculty found themselves at a halt for productivity, but a pandemic wasn't enough to stop the duo's love for creating. 
"We kind of talked around starting a business or at least business ideas very early on in our friendship freshman year, and we would sometimes brainstorm different ideas or logos. We realized the saying "son of a gun" started coming up a lot, and one night we were drawing and we wrote it out as "sun of a gun" and from then it kind of stuck."
After COVID-19 closed most of the nation, Tennberg took this opportunity to collaborate with Sailer in Colorado to start up their small business: Sun of a Gun. They have a variety of designs and colors. Customers can pick from either colored tie-dye or a bleach-dye, and since each sweater is made to order, customers are guaranteed a one-of-a-kind sweatshirt. Their most popular design has been a bleach-dyed sweatshirt that Tennberg thought of one night. 
"I remember lying in bed one night and deciding it would be cool to have a bleached look that was heavy towards the bottom and dispersed towards the top, like flames … But then Morgan thought to bleach colored sweatshirts too, giving them a bit of an ombre look, which I actually like even more now just because of the variety you can get."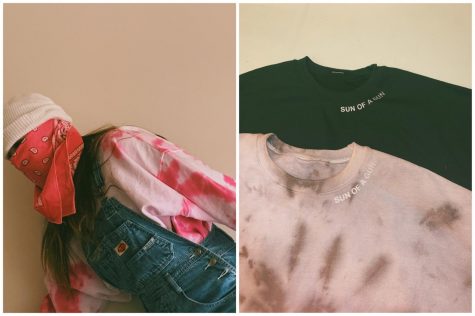 The future of Sun of a Gun is unknown. Tennberg envisions the business rebirthing and maturing and rebirthing again in different ways. Sun of a Gun will grow and change, mirroring the very growths and changes that Tennberg and Sailer experience. Tennberg expressed that she doesn't want to have specific goals for the development of their business. Instead of having the pressure to stick with one idea, Tennberg lets ideas come and go to see which ones she wants to run with. 
"I hope that one day it's more than a little side project we sometimes bring to life and sometimes push to the sidelines but always keep in the back of our heads."
You can contact Tennberg or Sailer for your own sweatshirts @_sun_of_a_gun on Instagram!