The Bridge Between Two Worlds
Noah Argao opens up about being a gay Christian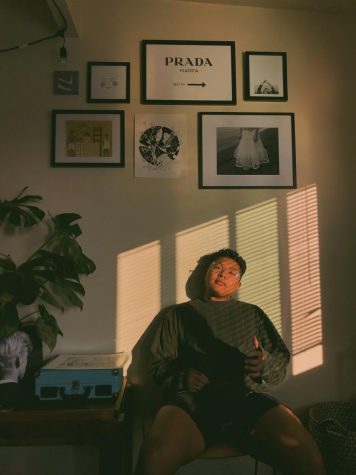 Confident, groovy, passionate. These are all words that describe fourth-year social science major Noah Argao. He has managed to dance his way into the spotlight as the captain of Westmont's dance club NSTEP and has baked his way into gatherings and leadership roles with his tried-and-true braided challah loaves. But beyond baking and dancing, Argao came with a personal mission when he first stepped into Page Hall: what does Christian faith look like for Noah Argao?
Argao grew up in San Jose, on the outskirts of Silicon Valley. Born into a Protestant Christian family, faith has been integrated into Argao's life for as long as he can remember.
"That wasn't always well-fitting with my experience at public school. A lot of my friends were not Christian …"
This dynamic between his school friends and church life created a separation in Argao's life, forcing him to go back and forth between the two contexts as he bounced around from public school and sports to church services and Scripture.
While balancing this dichotomy, Argao found himself at crossroads his sophomore year of high school. 
"I never had used gay or homosexual or any language of that kind before that. It was prompted by somebody asking me if I was."
Since it was his first time someone asked him about his sexual identity, Argao replied with an uncertain, drawn-out "yes?" Despite this shocking question, Argao said that he remained true to himself in his first moment of coming out.
"It was awkward, but it kind of shocked me how honest I was being. I think I knew. I had known this. In that moment I chose to be honest to myself and my friend by saying, 'Yeah, I think I identify as gay.'"
This conversation was an eye-opening and honest moment in Argao's life but also created another part of himself that was separated from his home life and school life. Most of his peers at school saw Argao embracing and expressing himself in one way while his family and church saw him demonstrating and declaring another.
Argao separated his two lives for the next two years. Upon arriving at Westmont, Argao came with questions about reconciling parts of his identity and he wanted answers.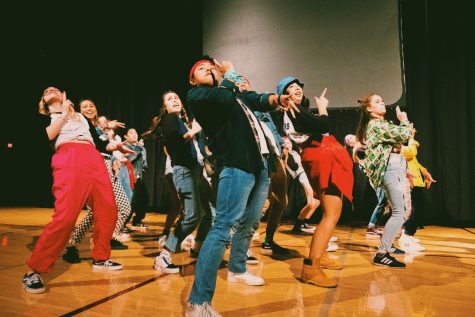 "I chose Westmont because I knew I wanted a space where I could ask these big questions that have been in the background of my head my entire life. How was I going to identify as a gay Christian?"
At first, Argao asked himself why he ended up picking Westmont and why his initial thoughts were so confident. "Being honest, I don't know why I chose Westmont," Argao says, laughing. "I don't know what about Westmont made me think that. Like, I'm going to come here and I'm going to ask these questions, and people are going to be okay with it." 
At first, people were not okay. Administration, the Institution, and Christian faith, was not okay. During his freshman and sophomore year, chapel speaker, Alistair Begg came with outspoken beliefs that condemned sex before marriage and those in  the LGBTQ+ community. The general attitude seemed to be condemnatory towards the LGBTQ+ community. This chapel affected the students that made up that community. Argao found himself hesitant about disclosing his sexuality to friends and once again hiding part of himself.
However, sometimes blessings are in disguise and people surprise, as Argao found his way to friends that supported and accepted him. Not only that, but his community was there for him as he ventured to find a way to reconcile the two parts of his identity. He wanted a community of accountability as he experienced a rough time redefining his faith. Apart from what his parents taught him to do or believe, Argao wanted to make his faith his own.
"I did. I ultimately did do that through various Bible classes and experiences with different ministry outreaches."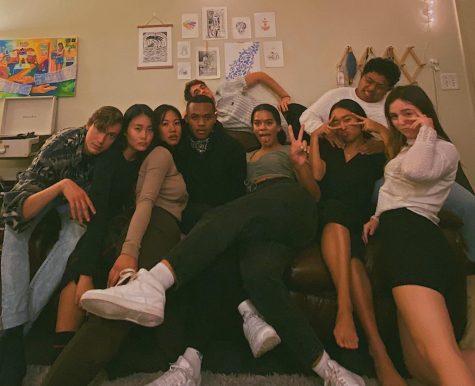 With his newfound knowledge, Argao decided there was more work to be done for the underrepresented LGBTQ+ community at Westmont. Argao is one of three leaders for Westmont's informal LGBTQ+ student group, Gradient, as well as Nexus: a ministry group operating out of the Campus Pastor's office dedicated to finding the crossroads of sexuality and Christian faith.
"I thought I was the only person going through any of this at Westmont. I felt like I had made a huge mistake by coming here. But Gradient exposed me to different people who were experiencing the same thing."
Argao has experienced firsthand how important community is to him within the overall culture of Westmont College; whether that be Westmont WOWs, Ring by Spring, emphasis on having community, all of these showed how much Westmont culture values relationships. Finding his specific community with peers and friends going through similar experiences helped him feel more comfortable between his two worlds.
Beyond having a space to be around LGBTQ+ peers, Argao, alongside fellow Gradient leaders Emily Herbst and Christopher Hanessian, spearhead Nexus: a new ministry group officiated by the Campus Pastor's Office whose mission is to help students navigate the foggy interaction between faith and sexuality. The group seeks to define, answer and exact questions Argao had walking into Westmont and hopes to be a place where new students can find those answers. 
"I want Nexus to be a space where students on campus can feel valued and first of all recognized. We go about life like we don't exist and that can be really hurtful and painful. Nexus has to be a place where students feel valued."
Argao also envisions Nexus as a place where queer students can be honest about their questions and thoughts under guidance. The idea of guidance is tricky in how it will manifest, but the ministry group will be under the leadership of three capable students as well as Ann Shackleton, a new staff member of the Campus Pastors Office.
While Nexus is getting on its feet, the leaders are excited to start running towards their goals as soon as possible. Argao expressed that they hope to have Nexus "be inwardly focused but also outwardly focused." The leaders want to start hosting panels and talks to further promote their message. 
Argao pleads to the school and student body to recognize the importance of recognizing students in the LGBTQ+ community. "Westmont is very focused on the well being of our community. We've talked about issues of race and mental health on campus because there are students who are going through it. It goes the same for queer students. This is a conversation we need to care about because it affects the overall health of our community … Please care about us!"
For more information about joining Nexus or Gradient, please feel free to email Noah or any of the other leaders at nargao@westmont.edu, eherbst@westmont.edu, or chanessian@westmont.edu. Also visit their Instagram page @gradientcommunity