Alfred Fishdoc, the DTR pond love doctor koi fish
As Valentine's Day is fast approaching, potential couples all over campus are scrambling to woo one another before the big day arrives. This is a noble aim, so here at the Capstone, we would like to encourage our local romantics with some advice. The DTR (defining the relationship) pond by the prayer chapel is the ideal setting on campus to ask someone to be your Valentine, but did you know that there is a greater force at work in that space?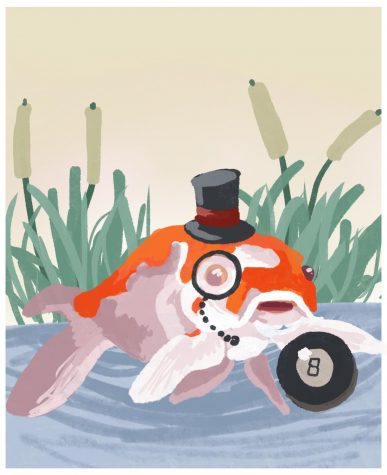 Alfred Fishdoc, the pond's koi fish and resident love expert, listens in on all the drama that happens around his pond. He is well-versed in the ways of love but, without another fish in his pond, he finds himself lonely. So, to fill the emptiness in his heart, he graciously blesses or capriciously destroys couples who converse by his pond.
For those of you who need all the help you can get in your Valentine's Day endeavors, there are some actions you can take in order to get on Alfred's good side and increase your chances of success. 
First, an offering of chocolate. The cheaper and more cardboard-flavored the chocolate, the happier Alfred will be. While a generic and bland gesture, this initial gift will pique his interest. 
Second, you must toss red rose petals onto the surface of the water. If they are anything other than red rose petals, Alfred will be very displeased and no longer seek to help you. Alfred is never impressed by the amount of money or effort spent as long as every gift given matches his Valentine's Pinterest board from 2014, so buy the cheapest red roses available. 
Third, show that you care about Alfred's lonely plight by buying him some kind of stuffed animal holding a felt heart. The heart is imperative — how else can a stuffed bear be romantic unless clutching its beating heart in its hands to offer to the object of its affections? It may feel like a waste to put a perfectly good and clean bear into the dirty pond, but just know that it would have ended up in a dumpster bin and landfill somewhere at some point anyway. Give the bear to Alfred. 
At this point, you should now have Alfred's full attention. The next and final step is the most important, because if you disappoint him at this stage, Alfred will ensure you do not find love within his sight. The last thing to do for your attentive audience is to write and recite a piece of poetry in front of Alfred's pond. To do this correctly, make sure the first two lines are 
"Roses are Red,
Violets are Blue …" 
and then continue from there. If you show off with too much creative talent here, you might scare Alfred away, but if you put no creativity into this assignment, or pull your poem directly from online sources, Alfred is bound to notice the lack of effort and will lose interest. 
If your mediocre presentation is enough to satisfy Alfred, he will look upon you with favor and bless your future love aspirations. Happy Valentine's Day!