Ten quarantine activities for when you're tired of watching paint dry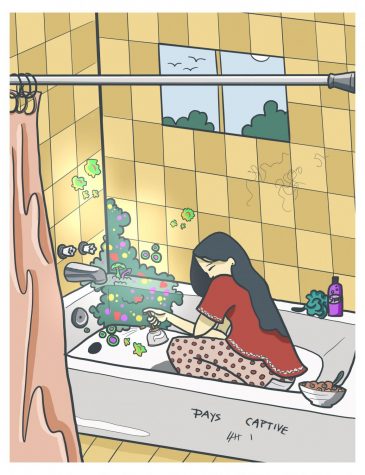 Greetings! If you are reading this, you have probably been placed in quarantine or isolation, and are seeking activities to complete while alone. Not to fear! Here is a list of things to cure your boredom while trapped inside your tiny dorm room. 
#1 Clean!
Now that you are stuck alone, it is a perfect time to clean absolutely everything. Some things that you can do include taking the stain off the wood on your bed, picking dust out of the carpet one piece at a time, and using your saliva to clean the windows. 
#2 Origami Westmont
The quarantine hospitality team has done an excellent job of providing everyone in quarantine with origami paper. Why not put it to use? Use your photographic memory and creativity to create a to-scale version of Westmont. For some extra credit points: make a miniature version of President Beebe and some students. Pretend you are attending classes and that everything is absolutely normal.
#3 Pluck the hair on your head 
Have you ever wanted to try a bald head? Now that you truly have all the time in the world, it is a great time to pluck each hair off the top of your head, one by one. Impress your friends with your new hairstyle once you come out of isolation. By the time you have finished plucking individual hairs, the coronavirus will be over.

#4 Pluck the hair on your body
Why stop with the bald head? Once you have no more hair on your scalp, move on to your eyebrows, eyelashes, and arm and leg hair! This style is very cool, and will get you lots of compliments. It will also aid with your swimming and running skills. Furthermore, getting ready in the morning  will take a lot less time. 
#5 Make a tornado
Santa Barbara is full of strange weather phenomena, but Westmont has yet to experience a tornado. Try making one in your very own room. For this activity, don a pair of good running shoes, some exercise gear, and a positive attitude. Practice some yoga poses to begin, and then go straight in. You will want to start running in circles very quickly with your arms splayed out behind you, like a bird in flight. Go in either a clockwise motion or a counterclockwise motion! If you go fast enough, you will be able to create your very own personal tornado and get some social interaction from the people in the room below complimenting your loud footwork.

#6 Drop things off the bed
This is a very fun game to play if you have a lot of pent-up frustration. Simply gather a few of your favorite objects and hurl them as quickly as possible to the floor. After you have accumulated enough objects on the floor, it is a good time for a photo op. Take some cool pics of the time when you let your emotions get the best of you and hang them on the wall behind you for your Zoom classes.
#7 Pretend to be a cat
The title says it all — now that you are all alone, you can finally make your dream of being a cat a reality! In this instance, cat accessories are not even needed. All you need is a catlike attitude to make this an enjoyable experience. Practice eating out of a bowl, cleaning your hands by licking them, and pretending to catch mice. Since no one can enter your room during quarantine, you won't even be fined by your RD for pet ownership!
#8 Make some friends
Lack of human contact for long periods of time is not very good for your health. So, why not make some friends? Position your blankets and pillows so they look like people! Make up conversations to each other, and give them their very own backstories. If you try your tornado technique again, your downstairs residence hall mates might even lend your new pillow friends their voices.
#9 Go fishing!
Go fishing in your room! Water from the showers will be more than sufficient.
#10 Practice sustainability
Try cultivating the mold in your shower. The previous residents of your dorm room left it there as a housewarming gift, so quarantine is a great opportunity to pay it forward and nurture a thriving ecosystem for whoever will live in your room after you. They'll appreciate the kind gesture — not many dorm rooms come with an indoor garden!