Surfboards, Stewardship, Sustainability
Sofia Troya sews sustainably crafty surfboard sleeves.
The average college student is no stranger to empty pockets and financial strain. Students often turn to brands like Amazon, SHEIN and ROMWE, which are all easy, convenient, and most importantly, affordable. It didn't take very long before college students started to take advantage of these services. However, do we ever question the ethics of these businesses?
One student who questions these big corporations and their effect on the planet is Sofia Troya. Coming to Westmont felt close to home for third-year communications major Troya. Originally from Carlsbad, California, Troya is well acquainted with living ten minutes away from the beach, warm weather and surf culture. The outdoors have been a critical part of Troya's self-care and lifestyle. Not only does she surf, but she also regularly rock climbs and skateboards, all of which contribute to her passion for the Earth that allows her to take part in these activities.
Surrounded by the beautiful West Coast, Troya has felt a deep connection to the water, but it wasn't until watching "The True Cost," a movie about fast fashion and the mistreatment of workers, that her love for the water and sustainability came together. 
"I wanted to do something about it … I took matters into my own hands and taught myself how to sew."
With her newfound skill, Troya wanted to find a way to decrease her carbon footprint on the world while giving back to the surfing community she was already deeply involved with.
"My friend had just shaped a surfboard and was telling me about it, and that's when it clicked. I could combine my passion for surfing and the environment by repurposing denim, corduroy and other thrifted materials to make a surfboard bag that offers protection to his newly shaped board."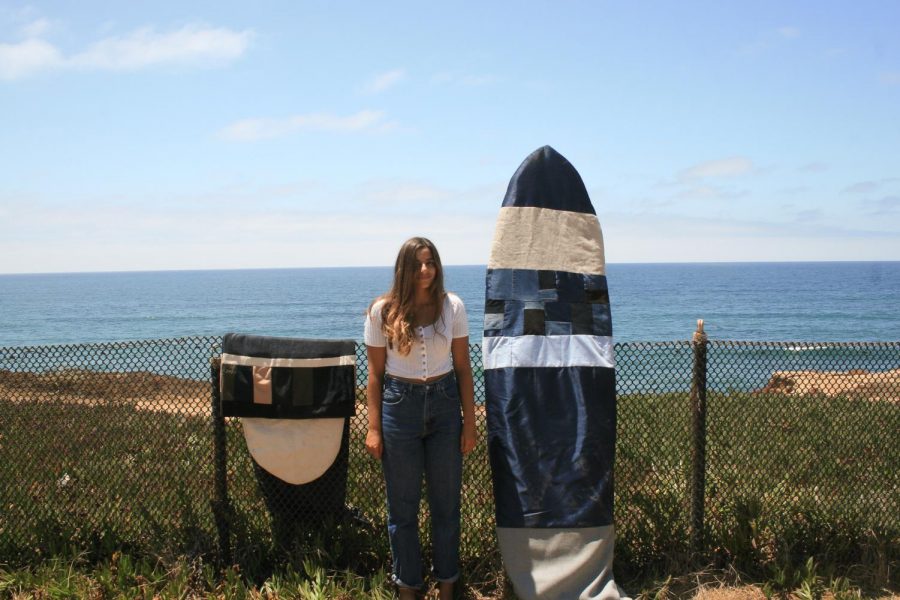 With this combination of surfing and sustainability, Troya's friend encouraged her to pursue her talents by starting a business, thus, "Against the Current Designs" was formed.
Troya sees the very changes society has made on her personally. Though it's easier, and almost encouraged to go to bigger corporations to get goods, Troya has felt this pressure push her further away from the norm. 
"I believe this brand goes against the current of the norm by straying away from fast fashion and creating a sustainable way to enjoy recycling."
It's easy to quickly go onto Amazon and look for trendy and affordable items; however, Troya believes it is important for students to look deeper into the effects these businesses have on the planet. With bright eyes and a wide smile, Troya says she is "extremely passionate about the environment and an advocate for sustainability." Troya also serves in Westmont's sustainability club. 
The next step to polish her business was finding a logo. The best businesses out there have easily recognizable logos and Troya knew she needed one as well.
"Against the Current Designs" is represented by a Ichthys, often depicted with two curved lines that intersect to create the tail, that is connected to a wave going in the opposite direction.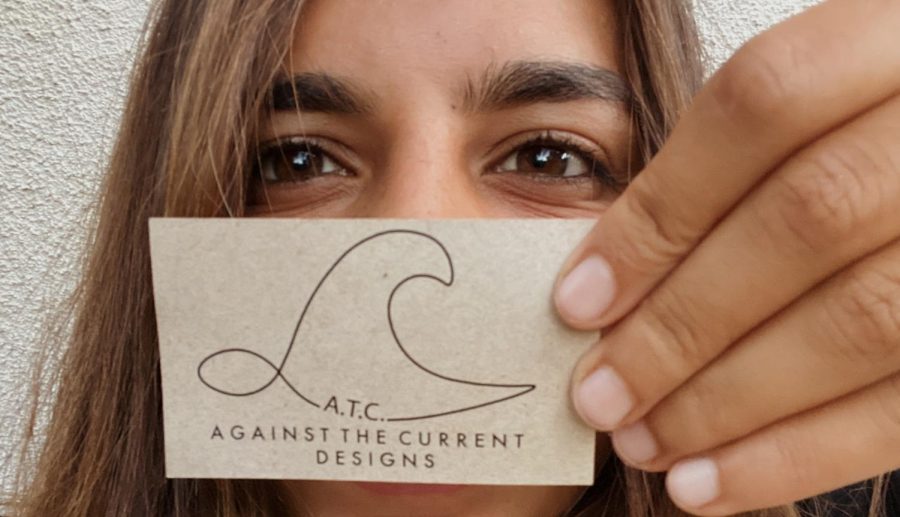 Troya hopes she, as well as her customers, can relate to this rebellious fish in their own way. It's easy to go with the natural flow of convenience and comfortability, but Troya promotes the need to go against the current and what society deems "right."
"The Christian fish is going in the opposite direction than the wave to represent how those who live their lives counter-culturally go 'against the current' of society."
Troya, though emphasizing sustainability and environmentalism in the logo, doesn't limit it's interpretation to sustainability. There are other issues that Troya finds important to discuss such as human rights and equality.
"A lot of immigrants are employed to work at sweatshops here in America and endure mistreatment in fear… I'm passionate about getting people to think about their consumption differently so that they can feel good about their choices and so that less people get hurt in the process."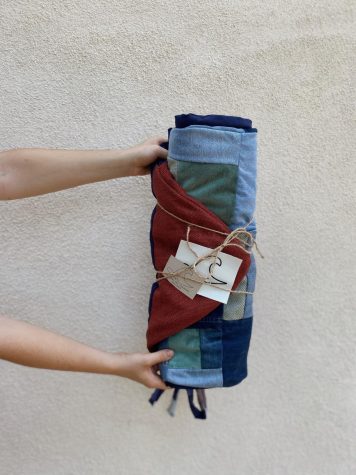 In the end, Troya hopes to provide a way for surfers to have an individual, unique style without hurting the environment they spend so much time in.
The process and amount of time that goes into making these personalized bags is long and tedious, but worth it in the end. With each stitch and fabric choice Troya makes, she becomes further immersed in the cause. She begins by buying jeans, pants and curtains from thrift stores, followed by precise measurements to properly fit each element into the stencil of a surfboard. For extra protection, she incorporates a thicker fabric and sews it all together to make a one-of-a-kind surfboard sleeve. 
When asked about the future of her business, Troya explains with a quick shoulder shrug, "I honestly do not know where this business will go, but I am hoping that it makes an impact on people's lives and ultimately adds to the efforts towards saving our planet."
On the greater topic of sustainability, Troya says that "it is so intertwined with everything important in life." Hurting the environment goes beyond just the planet: it affects us. 
"Sustainability is so important to me because we are not doing enough about it. We are not changing our ways to better the environment, and it really does not take much to start that change."
Troya calls the Westmont community to take part in this mission because Westmont is not excluded from both the effects and the responsibility of stewarding the world. 
"Westmont is given the platform to show an example of stewardship of the earth to others and they should not take that for granted."
Troya encourages the Westmont community to apply simple changes in their lives for the improvement of the planet. "Consume less! Buy less single-use plastic items, buy less clothes, order less things on Amazon … Use less and make what you use count."
Support Troya and her eco-friendly business by visiting @againstthecurrent_designs and checking out the Westmont Sustainability club @sustainablewestmont on Instagram!