Governor Newsom put politics over the public
What constituted the governor's about-face?
I'm writing this piece while sitting outside of a restaurant for the first time in 2021. I'm basking in the sun, eating food off of an actual dish, and savoring every drop of my fifth free refill. As much as I'm enjoying this exceedingly pleasant dining experience, I'm a little confused — how did we go from a full-stop stay-at-home order to outdoor dining in the span of 24 hours? More importantly, why did no one see it coming?
On Jan. 25, 2021, California Governor Gavin Newsom held a press conference announcing the end of the regional stay-at-home order and a return to the local tier system. Newsom defended his decision by referencing state projections that, in four weeks, ICU bed availability rates would increase to the 15% target.
This statement is a stark departure from Newsom's standard, cautious COVID-19 policy. Combined with the fishy context and all-too-telling political timeline, I have come to the conclusion that the Governor's about-face likely resulted from political pressure. As this sudden reversal constitutes blatant public deception and a breach in public safety, I recommend that Gavin Newsom be formally censured and removed from office as soon as possible.
Let's begin with the context of the announcement, which troubles me for two reasons. First, the decision to cancel the order was almost totally unilateral. A representative for L.A. Mayor Eric Garcetti stated that the mayor learned the news "as quickly and suddenly as the public." Additionally, California Senator Susan Rubio tweeted, "Extremely frustrating and disappointing that we keep learning about COVID-19 policy changes by press release. We need collaboration and a full briefing before going public with these changes." Considering the prominent role these politicians play in creating and implementing Newsom's policies, their exclusion from the decision-making process seems irresponsible.
Second, Newsom leaned heavily on "projections" to justify lifting the order. To date, those figures have not been made available to the public. According to The Associated Press, state health officials "[are] keeping all the data secret because it's complicated and might mislead the public." I'm generally not fond of the government making decisions with secret data, but this case seems even more egregious because the "projections" do not square with real case data! On the day of the original press conference, The L.A. Times reported that, compared to when the stay-at-home order was enacted, the "total confirmed cases have more than doubled, daily confirmed cases have increased, [and] the seven and 14-day positivity rates are higher and ICU capacity is lower in each region of the state except Northern California."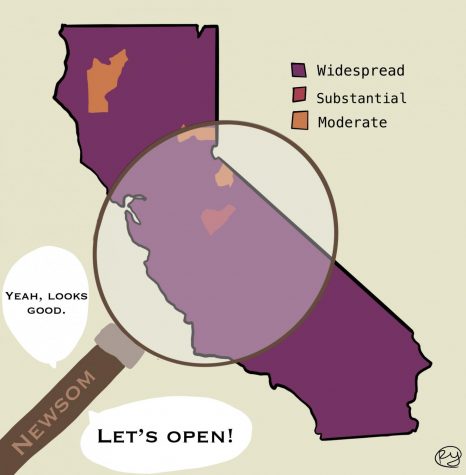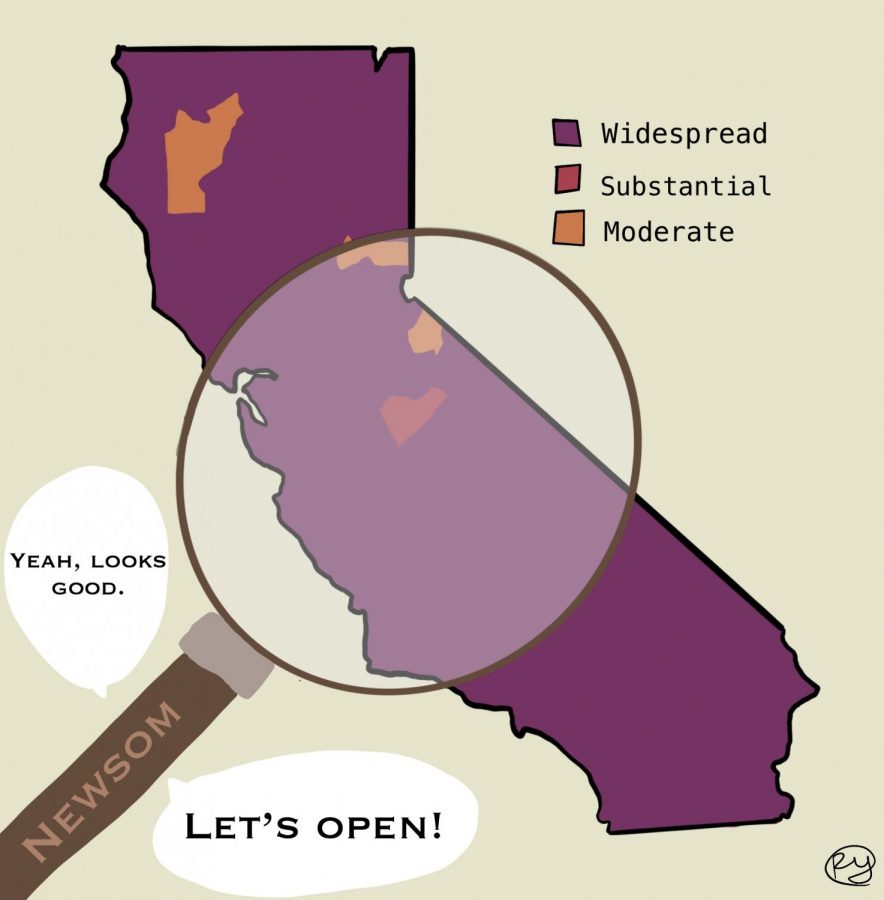 Note also that none of Newsom's former COVID-19 related orders were based on extrapolations, especially those as far as four weeks out. The original regional stay-at-home order only went into effect after real ICU bed availability went under 15%. Additionally, the Blueprint for a Safer Economy states that "every country in California is assigned to a tier based on its test positivity and adjusted case rate." At this point, we see that Governor Newsom has made an uncharacteristic policy decision under questionable circumstances. I will now show why this indicates the political roots of Newsom's motives, and, hence, why he should be formally censured and removed from office.
I can see three potential explanations for Newsom's conduct, all of which have troubling implications. First, you could give him the benefit of the doubt and argue that Newsom truly believes that lifting the stay-at-home order is the best decision for the public; maybe he's just bad at communicating. This scenario is troubling because communication is a crucial aspect of political office, especially during a crisis like COVID-19. If Newsom cannot communicate well, he cannot do his job properly.
I do not think, however, based on what we know of Newsom and his past behavior, that this assessment is correct. Newsom is a career politician, and you don't succeed as a politician if you are bad at communicating. Additionally, Newsom's COVID-19 policies have never deviated until now. Newsom is breaking from this consistent, established behavioral pattern with his Jan. 25 decision to remove the stay-at-home order with higher infection rates and less ICU capacity than when it was put in place. Since his long-term behaviors are more likely to square with his actual beliefs, we still need to ascertain what caused this behavioral aberration to occur.
Second, you could declare that Newsom does not believe that COVID-19 is as serious as he claims it is; perhaps that's why he isn't afraid of lifting the stay-at-home order when cases are still high. Depending on what degree of intent you attribute to him, this argument could insinuate that Newsom deceived the public about the nature of the pandemic. Assuming that he did not change narratives just to be malicious, this argument also implies that Newsom intentionally deceived for personal gain, such as an increase in power or political profit.
I think this argument has some merits, but it can't fully explain why Newsom lifted the stay-at-home order on Jan. 25. There is evidence to support the conclusion that Newsom is not as concerned about COVID-19 as he portrays to the public. There was at least one incident where Newsom was spotted at a restaurant with at least a dozen people, some of whom did not have masks, at a time when Newsom was actively encouraging people not to gather for unessential events. Logically, Newsom would follow the same rules he set out for his citizens if he believed the virus was as deadly as he maintained. Since he did not hold to these rules, we can deduce that he may not believe the virus to be serious enough to warrant quarantining.
Generally, though, I do not think this argument alone accounts for Newsom's about-face on Jan. 25. Even if he isn't as concerned about COVID-19 as his policies suggest, Newsom maintained the charade for almost a year — to deviate now would have lost him credibility and gained him nothing. It seems far more likely that this is an underlying attitude that contributed to Newsom's decision to deviate from the norm, but not a main cause. Once again, we need to ascertain Newsom's incentive to change his COVID-19 tune.
I believe the answer lies in the third argument — that Governor Newsom lifted the stay-at-home order in response to political pressures to do so. Newsom's decision comes at the convergence of several relevant political factors that I will enumerate below. One, Newsom is under pressure from citizen dissatisfaction. At the time of his announcement, the citizen petition for a recall election surpassed 1 million signatures, just 500,000 short of triggering a vote. Additionally, a week before the stay-at-home order was lifted, over 50 wineries and restaurants in Napa and Sonoma sued the California government to overturn the ban on in-person dining. In both cases, consternation with Newsom centered specifically over his COVID-19 policy.
Two, Newsom's decision comes less than three weeks after President Biden's inauguration. According to Mark Baldassare, the president and chief executive of the Public Policy Institute of California, the tide of the recall election could be turned because of the new presidency and because Vice President Kamala Harris is from California. He stated, "The question is whether the governor is really going to be able to take advantage of all that." It seems that Newsom is endeavoring to do just what Baldassare suggests. Days after the stay-at-home order was lifted, President Biden opened two new mass vaccination sites in California, likely causing a temporary increase in public approval.
I will not try to pretend that the above information proves, beyond a shadow of a doubt, that Gavin Newsom lifted the stay-at-home order for his own political benefit, rather than the health of the public. I also will not pretend that this timeline isn't incredibly troubling. Additionally, it establishes a plausible incentive for Newsom's radical political change — he, like every other politician, wants to get re-elected.
If we accept framework three as the most plausible explanation of Newsom's behavior, based on the content, context and motivation of his decision to remove the stay-at-home-order, then every single decision he has made during this pandemic comes into question and every single speech about "what's best for the public" is cast into doubt. For people who believe strict government regulation is the answer to COVID-19, Newsom's actions represent the sacrifice of public health on the altar of political success. For those that believe COVID-19 can be solved without a government order, this new development begs the question, "What has this all been for?"
When a person is elected to public office, they serve at the behest and for the benefit of the public. Like any good leader, they are duty-bound to serve. Governor Gavin Newsom has shown through his actions and words that he has not made decisions for the benefit of the public, but for selfish gain, and for that he should be formally censured and removed from office as soon as democratically possible. To this end, I will be signing my name to the petition to recall Gavin Newsom. I encourage other Westmont students to insist on holding our democratic leaders accountable, and take the same step.