Man on a Mission
Tristan Lloyd's journey as he redefines faith and rebrands the basketball team's image.
"I'm not a fun facts kind of person," said senior computer science major Tristan Lloyd, laughing. Lloyd playfully shrugged this comment off, but there's a lot to be said about the basketball player. He has traveled far from home to play basketball at the collegiate level. He studied hard and will graduate this spring with a degree in computer science. He has even considered playing video games professionally. Whether on the court or in the classroom or anywhere else, Lloyd gives it his all.   
Lloyd's basketball career started in the quaint town of Phillip Island, Australia at 10 years old. He alongside his childhood friends played basketball as a social event. Little did he know how far basketball would take him: Shanghai, Beijing and the United States. 
"Honestly, most of my life has revolved around basketball in some way … It's been the main thing that's pushed me around in my life."
Due to his dedication and passion, it was no surprise that multiple schools wanted to recruit Lloyd. After he tore his medial collateral ligament his senior year of high school, Lloyd took a break from basketball.
"I was out for nine months. It was tough, but it was also my first break from basketball since I started playing."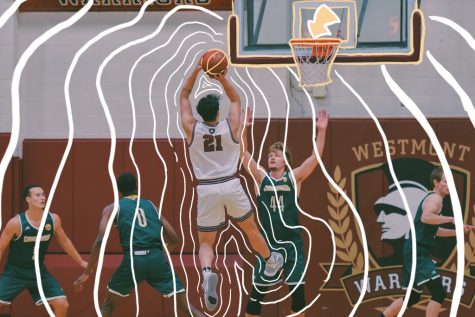 Because of his injury, a lot of schools pulled out their offers, but Westmont stayed dedicated to the player. For Lloyd, Westmont checked off a lot of what he had been looking for in a school: academics, religion and location.
Having only been in the States once, Lloyd ventured around campus for the first time during orientation. Here, he experienced a surprising form of culture shock. Australia and America have slight similarities like in food and language, but Lloyd was not prepared to meet so many chipper Christian students. "
"Australia is very secular and I had only met one or two Christians who were around my age … Seeing everyone else come together and everyone else's perspectives, views and morals on certain things was probably the biggest shock to me."
However, Lloyd didn't let this culture shock block him from making the most of Westmont. He explored faith in ways he hadn't been able to before.
"Exploring faith has been a roller coaster," says Lloyd, thinking back on all the different political, social and personal issues that have arisen in the past four years. To Lloyd, the effects of radical Christianity have fueled the discourse of these issues, such as racial injustice. The path to reconciling faith and the injustices has been a journey. 
Even in the midst of chaos, Lloyd was able to use Westmont as a way to educate himself more on faith-driven answers to his questions. 
"It's been a dance the whole four years. My relationship with God and [with] religion have been two different paths. There's been things that have made me question my faith and other issues that have made me rely on my faith more."
Not only did Lloyd experience religious culture shock, but he also came onto a team with an unappealing reputation. 
"I just felt like we had a stigma, especially during my freshman year. The basketball team in general had a stigma of not being the best guys and being kind of arrogant."
A dark cloud surrounded the basketball team, making them hard to approach: an untouchable clique that operated under their opinions. Lloyd and some of his teammates felt the weight of the unappealing image and made it their mission to defuse this cloud.
"The thing is, we understood why we had that stigma against us; we weren't super involved with the school, we didn't talk to anyone outside the basketball team."
As Lloyd came back year after year, he and the team made much-needed changes.
"We just wanted to be more involved."
Last year was a critical moment, as Lloyd and the team attended other sports games to show their support for other athletes as well as being involved in the community through Fellowship of Christian Athletes.
"I feel like we've done a pretty food job of losing that [stigma] and showing people that's not the case. Maybe it was, but that's really not anymore … I'm really determined to change that."
Through his leadership, Lloyd became one of this year's team captains. While trying to rebrand the basketball team's reputation, Lloyd has had to battle the difficulties of the pandemic. 
"The main thing that's changed is that we've practiced a lot but played very few games."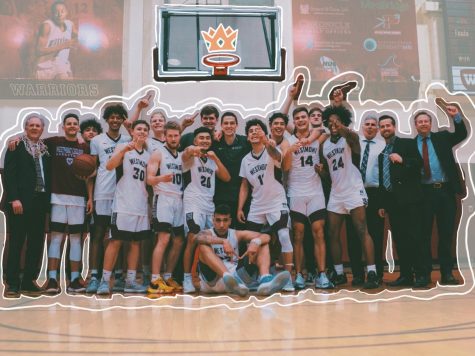 The ratio of practice time to games has been very discouraging for the team, with almost ten game cancellations. Though the pandemic took away the encouragement of a live audience, it has not taken away the love the team has for each other. The affection his teammates have for him and the motivation from other seniors pushes each player to perform with their utmost strength.
"It's our last year and I know that they care about me and the other [seniors] who are graduating enough to stay motivated for the season."
Lloyd and the team hope to participate in the national championship and bring home the title. 
The future is uncertain for Lloyd as graduation gets closer. With a frustrated sigh, Lloyd described the complications of his future. He has the relationships he's cultivated at Westmont while also thinking about his family, whom he hasn't seen in two years. There's also the uncertainty of life after Westmont. 
But there are ample opportunities for the basketball star.
"I've been talking to some agents out in the Philippines to potentially go play basketball over there."
Lloyd also hopes to get his MBA at some point and potentially start a people-oriented career in computer science.
As graduation approaches, Lloyd reminisces on his time at Westmont. "I feel like, at Westmont, everything that you need and want, in terms of personal growth, is right in front of you … I'll definitely miss that." Lloyd made friends all around campus and developed both personally and spiritually. Lloyd indisputably made his mark on Westmont's campus. 
Maybe Lloyd was right. He isn't a fun facts kind of person. Rather, he is a passionate player, fearless fighter and limitless leader. In everything he has done at Westmont, for the team and the wider student body, Lloyd has touched the community in ways that might not be fully known.