Squishmallow love reaches Westmont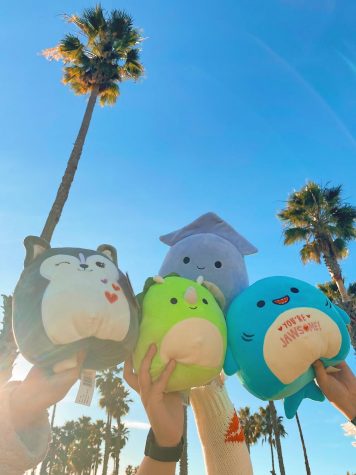 Whipped coffee, bread making, Among Us, Animal Crossing, Ratatouille: The TikTok Musical, and more have captivated the minds of many during the first year of the pandemic. Now, a new fad has arisen: Squishmallows. 
 The round and soft stuffed animals named Squishmallows have exploded on apps like TikTok and Instagram over the past few months. Stores are selling out in less than an hour due to the large demand. While kids are the target audience, high school and college students have begun actively collecting Squishmallows as well.
Ally Hawkins, a first-year student, hopped on the Squishmallow bandwagon. Her mom bought some in 2017, but Hawkins showed no interest at first. She eventually became interested when they kept showing up on social media platforms in September 2020. Hawkins explained, "Ever since I was younger, I have loved stuffed animals like Build-A-Bears and Pillow Pets. I grew out of the phase but slowly got sucked back into it as I was heading off to college. I fell in love with them because they're so cute, soft, [and] great to cuddle with and use as a pillow!"
She started off with two Squishmallows in September but now her collection has grown to about sixty. Her favorite one she currently owns is Connor the Cow, and while she didn't know it when she first bought him, Connor is now considered a rare Squishmallow.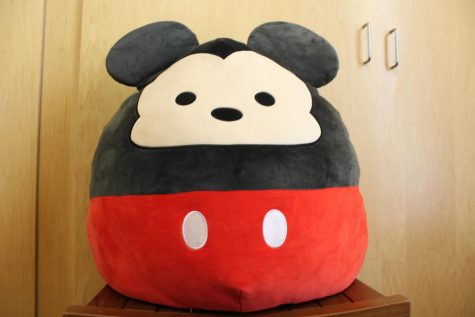 Besides Connor, other popular and rare Squishmallows include Wendy the Frog, Avery the Duck and Archie the Axolotl. Given Squishmallows' rise in popularity, collectors now go on Squishmallow hunts where they seek out their most desired Squishmallows. The lucky collectors find the rarest Squishmallows.
Hawkins explained the collection process: "It can get very competitive. Whenever there's a Squishmallow drop, people run out to the stores as soon as possible. Others spend their whole day heading to 20 different stores looking for Squishmallows. Squishmallow hunting is really fun, and sometimes there are bad days where we can't find anything, but then there are good days." Hawkins doesn't have a car on campus, so often her mom has to Squishmallow hunt for her.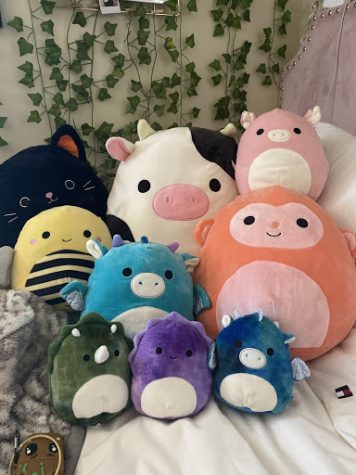 Kellytoy first released Squishmallows in 2017. Kellytoy's description notes their soft, marshmallow-like texture made of polyester, and that they are machine-washable. Squishmallows range in size from 3.5 inches all the way to 24 inches. The Squishmallow website states, "With more than 500 Squishmallow characters to collect, young fans can aspire to be like their favorite characters. Each Squishmallow has its own unique name and storyline to add to the fun."
To maintain interest, Kellytoy releases new Squishmallows based on the season or on holidays. The company refers to these releases by squad names, such as the Halloween Squad, Adventure Life Squad and Holiday Squad. 
Hawkins believes that they are a great, quality product and recommended that people buy them, especially because they are nice companions to have at college when pets from home are not around.