Stretching the Stress Away
Kelli Burell's progress as beginner yogi to leading practices.
Down dog, up dog, savasana — to some Westmont students, these words may invoke comfort, stress or confusion. For junior transfer and communications major Kelli Burrell, however, these words spark great joy. Yoga has grounded Kelli in both her practice and in her life.
Burell started practicing yoga when she was 18. She thought it was time to take a step forward in exploring new hobbies apart from running, hiking and napping, though she is still passionate about the latter. While she now expresses a great passion and joy for yoga, Burell's relationship with yoga was not always great. 
"My mom took me to a yoga class at CorePower Yoga when I was either a freshman or sophomore in high school, but I wasn't crazy about it," said Burell. 
However, yoga came back to Burell due to unexpected health restrictions that limited her physical activity. Soon, yoga was the only way for Burell to stay active. Burell attests that sometimes one yoga class is not enough. She returned to CorePower but registered for a different class and instantly fell in love with yoga.
"In my own personal practice, yoga has been a means for me to build strength, maintain flexibility and reconnect with myself in ways that I hadn't for a long time prior to starting yoga."
Yoga seeped its way into Burell's life as she started to pursue teaching yoga. After such a great experience with the practice, she wanted to help others stretch themselves to their limits and push them deeper into themselves through their practice through teaching. 
Teaching allowed Burell to expand her community, not only to those who practiced yoga, but those who wanted to teach others as well. She described her fellow instructors as "so grounding and supportive." Burell is also grateful to her students as they have taught her as much as she taught them.  
In the early days of teaching, one particular student left a lasting mark on Burrell. At first, this student had a hard time keeping up with the poses, but he always did his best. Burell was also trying her best as a new teacher to encourage and help him feel more successful in his practice. 
"Over time, he became more familiar with the poses and started challenging himself to try more advanced postures — all the while I was becoming a better teacher."
Before leaving for Westmont, Burell's student thanked her for all of the care she put into him and his practice. They mutually appreciated watching the other grow, whether in practice or teaching. 
"Though teaching yoga is my job, it never feels like one. The 'work' I do is so life-giving and rewarding and just fun; it's hard to imagine doing anything else."
Even in the midst of the pandemic, Burell has done her best to find ways to continue teaching others because of how much she values the community. 
"The community I get with yoga is one of my favorite parts, and also one of the reasons why the pandemic has been so hard … However, outdoor and Zoom classes have definitely proved to be way more fun and fulfilling than I ever would have thought!" Burell said with a bright smile.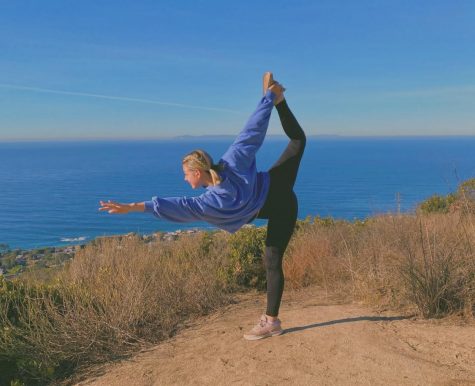 Burell believes that everyone should practice yoga for all of its spiritual and physical benefits. "What doesn't yoga do for people?" Burell questioned enthusiastically. Yoga is a low-impact activity that utilizes muscles that are not normally a part of a traditional workout, such as those in the ankles or feet that stabilize the body. Not only does yoga utilize infrequently engaged muscles, but Burell went on to say that yoga helps with stress relief and mindfulness. 
"During your practice, you're encouraged to connect your breathing to your movement, known as 'vinyasa,' which is a super practical form of mindfulness."
She continued to explain that, after a thoughtful yoga practice, the brain releases endorphins that allow people to feel more relaxed and happier overall.
In regards to the Westmont community, Burell believes that students would benefit from the non-physical aspects of yoga. 
"The term 'asana' refers to the postures or physical poses we think of when we hear 'yoga,' but yoga is actually a very old practice and the concept of 'asana' is a fairly recent addition," Burell explained.
In a typical yoga practice, the session ends with "savasana," which loosely translates to "yogi nap time." During this final portion of the session, the goal of the pose is to remain still.
"It sounds silly, but sometimes for me, this is the hardest part of class."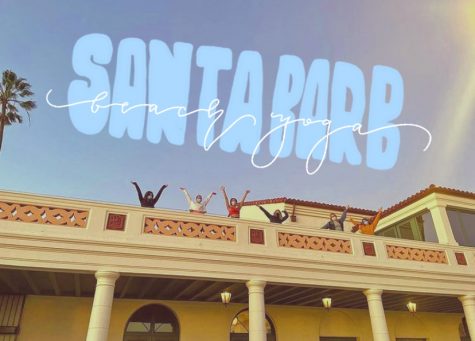 Fidgeting, moving, running thoughts — all of these distractions prevent Burell from truly being still and at peace after her practice. However, savasana is an important conclusion to the practice that stays with people far after the session. 
"Being still and being intentional are really hard to do, especially in a fast-paced environment like Westmont. Everyone is always on the go, working on something and multitasking to the extreme."
Burell is obviously passionate about yoga and teaching others is an important part of her life. Though she is no longer able to teach at CorePower, she has recently partnered with Santa Barbara Beach Yoga, a company started by entrepreneur Emma Davis. Right now, they have outdoor yoga classes at East Beach Pavilion that are open to the Santa Barbara community.  On the weekends, the company has morning classes on the beach, while leading weekday night classes on the rooftop of the pavilion. 
Burrell said that "The classes are more intimate and you get an amazing view of the water and sunset." Currently, she teaches a nighttime rooftop class on Thursdays and a morning beach class on Saturdays.
You can find more information about her classes at her Instagram @yogawithkell!