Hozier returns to the Santa Barbara Bowl with "Wasteland, Baby!"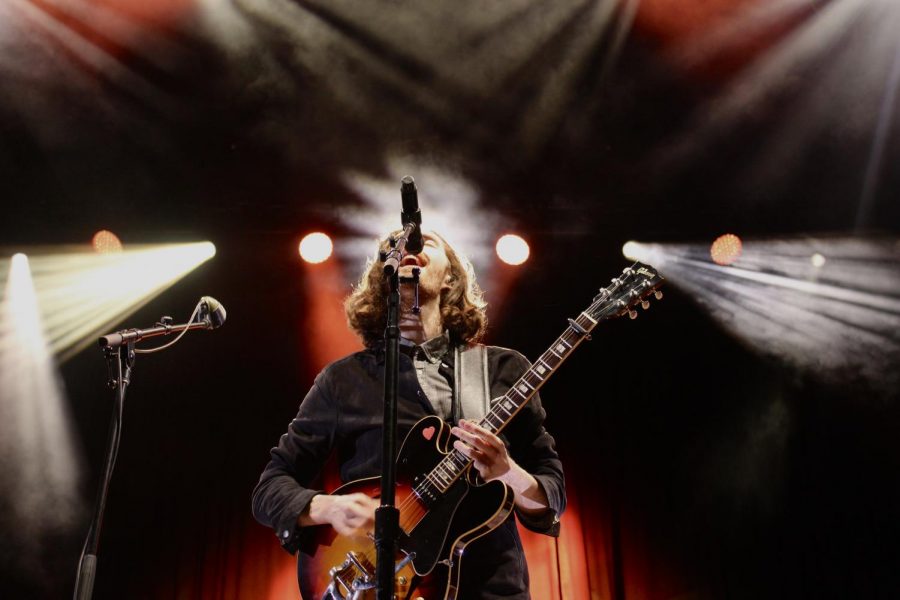 While thoroughly mid-October, Thursday evening carried an air of summer in Hozier's both gritty and soulful melodies at the Santa Barbara Bowl. With clear, starlight skies overhead, Hozier filled the space with current messages and rich music.
In a shroud of radiating red light, the Irish singer, backed by his band of Irish- and Nashville-born musicians, opened with "As It Was" from Hozier's second album, "Wasteland, Baby." Their performance kicked into gear with "Dinner Diatribes" and was followed by Hozier's declarative call and reflection on global activist movements with "Nina Cried Power." The anthem — originally recorded featuring vocalist and Civil Rights activist Mavis Staples — was paired with scenes from movements around the world projected on the draped backdrop. While written as a tribute to the legacy of civil activism, the song communicated a clear message of the power and importance of current political movements.
Midway through the set, Hozier introduced a new song inspired by the sentiments of Woodie Guthrie's own anthem, "Tear the Fascists Down," as well as awareness of the current political events in cities such as Hong Kong and Moscow. With a smile, Hozier asked the audience to "suffer being present for a moment" and debuted his new song, "Jack Boot Jump."
Thursday night's audience was completely present throughout Hozier's performance. Few phones masked faces, as audience members gazed skyward and danced. Particularly during "Movement," stage lights danced across the audience and created a water-like effect across the Bowl. Westmont senior Katie Emert enjoyed the full view of the concert's production from the top of the amphitheater: "I haven't sat that far back for a concert at the bowl before, but it was actually very beautiful for this concert," Emert laughs. "I was able to see all the artistic work that they put into making the stage. I've never been able to see a performance from far back where you can see the stars and the ocean. It's just a really beautiful venue."
The audience's engagement may also be attributed to the interweaving of familiar favorites from Hozier's self-titled debut album throughout the show. The finale featured the powerful 2013 hit "Take Me To Church" accompanied by the projected music video. Gradually, while some members raised their hands and others stood silently, the audience's focus gravitated to the evocative images of the video rather than Hozier himself.
During the encore of "Cherry Wine" and "Work Song," Hozier reintroduced the band members and encouraged others to watch the crew credits after the show was completed. As a performer, Hozier's goal is not to elevate his platform for the sake of his own benefit. While he is grateful for the support he receives from his band members and crew, Hozier's intention with his platform is to elevate causes beyond himself.