Pouring into culture
Discovering home while studying abroad in Spain and Jerusalem.
Jada Fox, Students Editor
September 18, 2019
Ashley Masso settles into the corner of the couch with a mug of fresh, home-pressed coffee in hand. Coffee has grown to be much more than just a beverage for Ashley. After four immersive months in Seville and ninety days in Israel-Palestine, drinking coffee encapsulates a facet of a culture's hospitality. Whether sharing a pot of Arabic coffee with her host family before school in Bethlehem or stopping at her favorite cafe in Seville, Ashley became passionate about finding spaces to build bridges both within and outside of her heritage.
However, Ashley's decision to engage in cultural settings runs much deeper than simply sipping espresso. For Ashley, truly loving a culture necessitates a responsibility to its people, environment, and history.
As Ashley was immersed in Seville's culture through a third-party semester, she quickly felt at home. "I feel like I personified myself with the city," Ashley reflects. "I fell in love with the city so much I wanted to be like it. Everything I wore: I wanted it to look like Sevillana. My language: I wanted to sound like I was from Seville. I wanted to be from there because I fell in love with it so much." 
The transition from Seville to Israel-Palestine was brief — only a mere three weeks. Unlike Seville, Israel-Palestine is a part of Ashley's family's story. In 1948, around the declaration of the state of Israel, Ashley's paternal grandfather emigrated from Palestine to Mexico in response to the displacement his and other Palestinian families faced as they were forced from their homes. Ashely recalls her understanding of her grandfather's story, "Growing up I didn't know I was Palestinian. My mom said my grandpa would introduce himself as Lebanese because of political climate and it wasn't accepted to be Palestinian. There were aggressions he faced in the past because he lived in Mexico then moved across the border to where we grew up. […] I didn't know Palestine was something to be celebrated."
Connecting with Palestinian culture and Beit-Jala — Ashley's relatives' hometown — proved to be a challenge in comparison to the romantic experiences of Seville. "I think in some ways, I wanted to get to Palestine and I wanted it to feel like it did in Seville. I wanted it to feel like home right away," Ashley comments. "I had connected so much with this foreign city that has nothing to do with anything of my family, but then I get to this place that somewhere in my blood, I was like a part of this city or this region, and yet I felt pretty much nothing…but I think the real love and encompassing all that Israel-Palestine was just in the people we met."
Ashley was encouraged by program leader Alessandra Abussada, Peruvian-Palestinian, to pursue connecting to her Palestinian relatives in Beit-Jala and understanding her own identity: "[Ale] just encouraged me. She was like, 'It's okay if you want to identify as us too, even if people around you would think it's weird, this is a part of you that you can actually hold onto, '" Ashley recalls. "I'm here, I'm learning the language, and I want to return now and I want to continue to knock on these doors and maintain these relationships."
About the Writer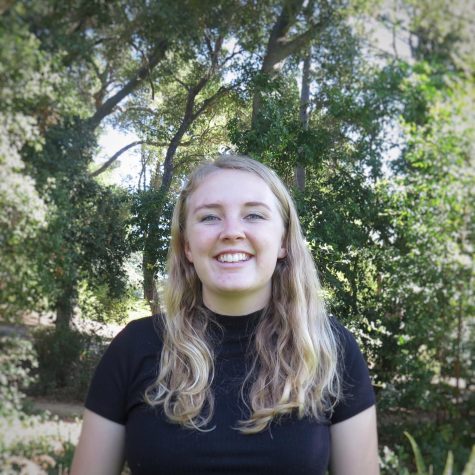 Jada Fox, Students Editor
Jada Fox is a senior English major who wanted to be an astronaut, but settled for cloud-gazing instead.