Ann Shackleton: the new program leader for Nexus
Earlier this year, a new program for LGBTQ+ students, called Nexus, was announced. Nexus gives these students a place to discuss in a small group setting about the intersection of their faith and sexuality. With this new program came a new staff member: Ann Shackleton.
Shackleton's role involves leading the students and giving guidance in a pastoral way. The role also involves thinking ahead, planning for what students can discuss and read with each other. She also provides one-on-one support with students on their journeys through life and faith.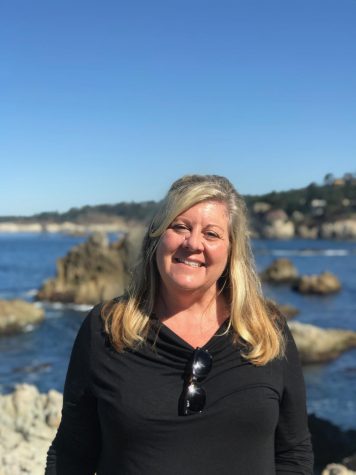 The discussion of sexuality and faith is a subject Shackleton is familiar with. In the last 10 years, she has spent time working with Young Life discussing topics similar to what Nexus touches on. Over time, she became involved with different people and resources that helped her stretch and learn. As a Young Life leader, Shackleton committed to helping others find health in regards to their faith and sexuality.   
After living in Colorado for several years, she decided to move back to the Santa Barbara area. When she returned, campus pastor Scott Lisea reached out and asked her to consider taking the leadership role to help form Nexus. She said, "There had been much work done in preparation for this initial year of Nexus by a small group of people giving vision and form and planning to the Nexus group. I was happy to say yes and offer my experience and help toward this new direction for Westmont students." 
On a Christian college campus, students who identify as LGBTQ+ students are often marginalized. Therefore, Shackleton finds it important to build a space where these students can be supported in their needs and in their spiritual walks. 
Noah Argao, one of the current leaders of Nexus, expressed his gratitude towards Shackleton: "She's a really great listener and activates creative thinking with thoughtful questions. Those two things make it really easy to talk to her!" 
Outside of Nexus, Shackleton still works with Young Life. Aside from her jobs, she spends her free time with her seven-month-old yellow lab, Ardie. She has been busy training her and taking her on walks at the beach. Shackleton has also recently picked up the hobby of restoring old cars.
Shackleton is excited for the future of Nexus. She has found that the students have thoughtful conversations within meetings: "They don't shy away from the difficult parts of the conversation." She has been encouraged by the support the school has given toward the program. Shackleton believes the space that Nexus holds helps students gain personal growth in authentic ways through their faith and identities. 
Students who are interested in Nexus, or want to talk with Ann Shackleton one-on-one, can contact her at ashackleton@westmont.edu.