A student's experience with the midwest winter storms
A historic weather event has plagued North America with seemingly endless cold and snow for the better part of a month. Since the middle of January, there have been 10 winter storms that have ravaged the United States, Mexico and Canada over a three-week period. These storms, starting with Winter Storm Malcolm and followed shortly by Nathaniel, Orlena, Peggy, Quade, Roland, Shirley, Tabitha, Uri and — the most recent and most deadly — Viola, have left much of the country struggling to recover.
Third-year student Tabia Edwards, originally from Norman, Oklahoma, saw the effects of the storm firsthand. Leaving for her home just days before Valentine's Day, she had no idea of the frosty reception that she would receive.
"Flying in, there was immediately freezing everywhere. Then, driving home, the roads were icy, and it was scary driving on the ice. You just don't know if your car will slide or if someone else is going to slide into you." Going home, she reconnected with her family and friends, but the threat of the cold remained just outside.
Edwards further explained that, while the electricity of many in Oklahoma was affected by past storms, it thankfully was not this time. The same could not be said for the plumbing in her home. "At my house, the pipes burst, and my garage flooded, freezing and destroying our washer and dryer. We didn't notice until the next day."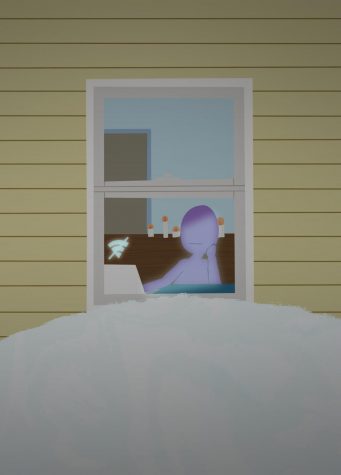 Staying warm was a priority for the Edwards family, and for millions of Americans affected by the storms. "We all piled under a bunch of blankets and had to layer up, even inside the house. If you went outside, you had to make sure you were wearing enough layers [of clothes], or there would be a very real possibility of dying from hypothermia." While she and her family were fortunate enough to have basic necessities, the same could not be said for many people and creatures that had to fight to survive the cold. Edwards described how sad she felt when she looked outside one day and saw a bird frozen to death from the extreme cold. Like many Americans, the Edwards family prepared as well as they could for the storm. "We went to the grocery store and it was practically empty." Stocking up on food, water, gas and other necessities are a must for any person preparing for an emergency event such as a snowstorm.
Edwards emphasized the quick response her city had to the weather conditions, which echoed the responses of numerous cities affected by the storms. Plow drivers cleared the main roads and were quick to respond to emergencies if needed. Moreover, the citizens made sure to help each other. "My boyfriend and I were driving when our car spun out on the ice and got stuck. Fortunately, a passing truck stopped and pulled our car out. We could have been stuck there for hours if no one had helped."
Starting on Jan. 24, Winter Storm Malcolm spawned and mostly rode the Canadian border from the Pacific Northwest eastward to the Upper Midwest, where it spun from Jan. 14-15. It was finally ejected eastward into the Northeast on Jan. 16. However, this was only the beginning of the Arctic air being pushed South to North America. While each storm has left a trail of destruction, only three were strong enough to register on the Regional Snowfall Index (RSI). Those storms were Shirley, Uri and Viola, all classified as Category 3, or major storms, according to the National Oceanic and Atmospheric Administration.
No state has been hit harder than Texas. Due to these storms, millions of Americans in the state have been hit with below-zero temperatures as well as the loss of electricity, plumbing and other basic functions. On Feb. 11, there was a massive 130-plus car pileup in Fort Worth, Texas that left six people dead and dozens injured, some critically. This mass-casualty incident was due to freezing rain and iced roads, a serious danger to those traveling along Interstate 35.
Looking solely at Winter Storm Uri, the national end cost of the freeze is projected to be a total of $195 billion on the low end and as much as $295 billion. That cost includes lost income as well as long-term reduction in economic output stemming from factories and businesses that closed during the storm. While no numbers exist for the total cost of all of the storms, it is safe to assume that the total economic loss could rise above $1 trillion, not accounting for other countries that have also felt the nip of the cold.
The storm's damage to the large agricultural sector could last for several seasons, with crops freezing over as temperatures stayed below zero for a significant period of time. In Texas, about half of the state's citrus harvest was lost, and many farmers lost fruits, vegetables and cattle. However, this loss does not compare to the potential rise in natural gas prices that are sure to follow.
By some estimates, nearly half of Texas's natural gas production has screeched to a halt due to the extremely low temperatures. Pipes carrying natural gas have burst throughout the South, which was not prepared for sudden and seemingly endless below-zero temperatures. Due to the severely constrained gas supply, significant price spikes swept across numerous supply regions.
Through all of this, Edwards made sure her short time home wasn't ruined by the weather. "We built snowmen, rode on sleds, and had snowball fights. We wanted to make the most of the situation."