Discovering growth through challenge
Choir president and transfer student Lillyana Huerta reflects on art-centered aspirations
Jada Fox, Students Editor
October 16, 2019
Lillyana Huerta gazes mindfully at her glass, considering where to begin her story. Her journey to Westmont and discovering her passion for singing has not been a direct one, but a new focus among a life of artistic interests. Currently President of the Westmont Choir and a senior music major, Lillayana did not always sing. Prior to attending Westmont, Lillayana first started participating in vocal ensembles and choirs at a Sacramento city college — an hour and fifteen minutes from her hometown of Jackson, California. There, Lillyana fell in love with singing.
"It was Handel's Hallelujah chorus," Lillyana recalls. "It's not a super technical song, most everyone knows it. [Our director] had us sing the first chord … and I remember feeling the vibration of the sound in my body and warmness in my chest and I had to stop singing because I was so overwhelmed with the sound. I had never been an ensemble where everyone had their own part for a bigger purpose." For Lillyana, the sensation of singing powerful words of worship in unison sparked her study of music.
Shortly after beginning to sing with ensembles, Lillyana transferred to Westmont in fall of 2017. "Westmont made me feel like they wanted me there," Lillyana smiles. The first year jumping into studying all sides of music — both theory and performance — was challenging for Lillyana: " Vocally, you can kind of start at any age, but with theory it's hard to start as a sophomore, as a nineteen year old kid. And then realizing how good everyone was [at Westmont] … it was discouraging. It was a hard reality and then one day it just clicked. Theory just worked."
Even though Lillyana started training her voice and theory at Westmont, she found her artistic voice much earlier. In the second grade, Lillyana joined a dance studio and company. Other than dance and community theater, there wasn't much artistic opportunity in her hometown of 3,400 people. "Not a lot of music," Lillyana laughs. "I did bell choir for church and that was the epitome of it." Dance ignited Lillyana's curiosity for innovation. After reaching seniority in her dance company, Lillyana took every style of dance offered and found herself largely interested in contemporary and modern dance. "My style with dance is anything weird," Lillayan describes. "If [the choreography] makes you uncomfortable, teach me how to do it."
The thread of inspiration from her dance career carried over into Lillyana's other interests, "Finding that appreciation of contemporary art within dance translated with what type of music and art I like." Lillyana's technical training in the dance studio and vocal ensembles provided the foundation for her to explore her own voice while at Westmont. Lillyana describes the Westmont music department's focus: "It [is] more about being an artist when you sing and being a storyteller of what you're singing as opposed to a technical, theory-musical singer."
For Lillyana, observing the artistic community at Westmont—consisting of both faculty and students—and collaborating with other artists drives her own inspired endeavors. Lillyana reflects, "The relationships I've created with Westmont music department faculty and the relationships in the ensembles I've been in [is] what has kept me going because it makes you feel like you have a purpose."
Despite only recently beginning her music focus, Lillyana is thankful for feeling out of water at times in her transition to Westmont and other points in her journey. Lillyana shrugs, smiles slightly, and comments: "If you're comfortable, you won't grow, and if you're uncomfortable you will grow."
About the Writer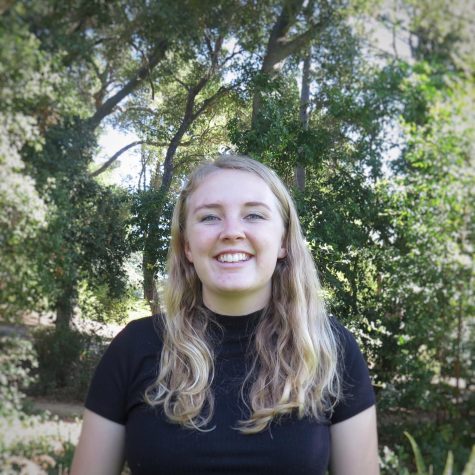 Jada Fox, Students Editor
Jada Fox is a senior English major who wanted to be an astronaut, but settled for cloud-gazing instead.