Setting the Pace
Rachel Pace expresses her experience as a second year RA
This past Friday, 40 eager students opened up their mailboxes to find a letter awaiting them. In this letter, they found out whether or not they had the privilege to become a Resident Assistant for the 2021-22 school year. A student who knows this nerve-wracking feeling all too well is Rachel Pace, a third-year communications major. 
Pace has been an RA in Emerson Hall for the past two years, and she will end her RA career next year. There's a lot more to know about Pace than just her RA job, however, Pace has a sweater embroidering business she started over quarantine as well as a newfound love for spikeball.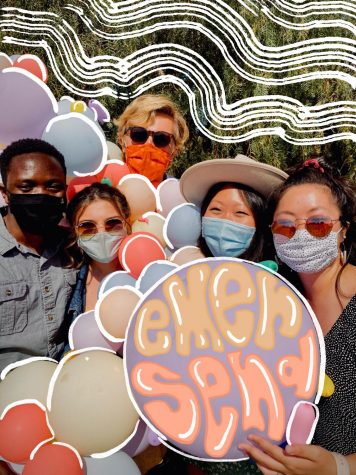 Even with all of these hobbies and passions, Pace finds her greatest passion in serving others. Her caring heart reaches out to everyone that encounters her skipping down the floors of her hall. This desire for service was the main reason why she applied for the RA position in the first place.
"The reason I wanted to become an RA my first year, I think, was because I really liked freshmen."
The care she received from upperclassmen when she was a freshman inspired her to apply during the spring semester of 2019. 
"It made me feel way more at home and way more connected … I thought I could be that for another freshman."
Pace also wanted to further connect to the school by having a role in the community. 
"The idea of having a community, being an RA, having a staff, having the larger ResLife family, felt really compelling to me."
By planting her roots deeper into Westmont through Residence Life, Pace felt grounded. She met people she would not have normally  because of her position, which made her consider another year as an RA. 
"Honestly, I think [I reapplied] because I loved being on staff so much … So much of the reason I applied my second year was because I loved so many of the things from my first year."
Fate was on Pace's side, as she was put in the same dorm with the same sparkling Resident Director, Dee Kim. Pace expressed her love for the hall itself just as much as she did for its residents.
"I feel like we have Napoleon Syndrome, where we're so small but so proud, and I think we live up to it."
Pace was encouraged when residents wanted to stay in Emerson for a second year with her. Seeing how much the residents loved living in Emerson made Pace love her job all the more.
Knowing all of the things her team and residents accomplished last year, such as really unique events like Floaties and Floats or building  community through intentionality, Pace came into the 2020-2021 school year fired up to do more. However, the pandemic prevented a lot of programming and squashed Pace's hopes for a greater year.
"This year [my motivation] is the staff and Dee. Emerson, because it's such a small staff, you have to be intentional and motivated to get things done. It's intrinsically more relationship-oriented because you only have four people."
The pandemic continues to shape Pace's second year as an RA as well as the whole of ResLife. New job responsibilities have come up, mainly in protecting students from the aggressive spread of the virus. 
"It's frustrating because so many RAs say 'Discipline and conduct was not the reason I became an RA,' and I feel like this year, that feels like that's 80% of my job. You take out a lot of the relationship aspect and a lot of the planning and that's been hard."
The pressure Pace and other RAs feel when trying to ask a simple seven-word question, "Hey can you put on your mask?" is more than most give them credit for.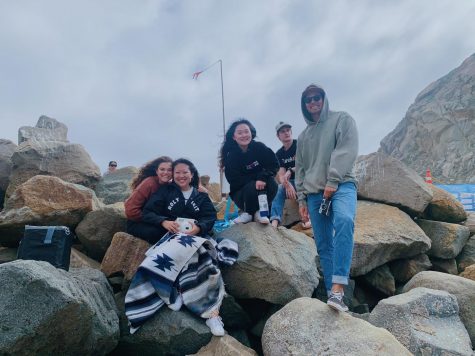 "People think it's easy to do it or people assume because we're in a position of power that we enjoy exercising that power, but even in staff meetings, the number of times that we've have to physically hype each other up just to be able to [ask them is high]."
It's clear to see that this year has brought a lot of internal conflict because of the removal of relationships and the replacement of conduct. Pace's mission to make Emerson a home-away-from-home is no longer a priority in a time with COVID-19. A job that once brought her immense joy and fulfillment has instead left her with guilt and stress. Masks and protocol have put a wedge between her and residents, both physically and relationally.
"I hate not feeling like I want to have a super long deep conversation when you both have a mask on. That's hard for me — we're running into each other in the hall and I can't even see their face."
In thinking about how she continues to navigate the can's and cannot's of what seems like a completely new job, Pace sighed and said, "It can be discouraging when you're an RA when you're trying to plan things and trying to reach out, but you also know that under your contract there are so many things you can't do, and it makes the things you can do feel like second prize to things that you could have done."
However, in this deep struggle, Pace finds joy in her job through the support of Dee and her staff. They continue to hype each other up with issues regarding COVID-19 or anything else comes up, and they brainstorm to bring the best year they can despite the current situation.
Pace's staff has jumped over hurdles to create events for their residents this year, like their most recent Guyrad event where Pace and her staff were able to play matchmaker for their residents and set them up with dates.  
It goes to show how much Residence Life has taught Pace how to properly lead a constructive conversation or how to practice self-care through setting boundaries. ResLife has gone above and beyond for Pace because of how they have redefined what a leader is to her.
"I realized my first year and …  something I took into my second year was how little there was a mold for what ResLife was looking for. Coming into it, I thought that they were only looking for the perfect Westmont person to be an RA, but they fulfilled their promise that that's not what they're looking for."
Residence Life continues to look for students like Pace who are willing to live in the uncomfortable, love those around them, and learn from their mistakes to grow. The staff matches the diversity of the very residents that make up Westmont's campus and continue to strive to build a community that reflects the rich stories each person brings. 
Pace alongside the rest of the ResLife community have made it their mission to make sure that students are living their most authentic lives while also having to mediate the rules of the Student Handbook. She hopes that all students will have grace to those who are trying to serve them and that they can walk alongside each other in finishing the year.