Pursuing data analytics and balance
Kimberlee Gong explores her future as a data analyst
Jada Fox, Students Editor
October 23, 2019
"If I could switch to majoring in spreadsheets, I would probably just switch to that," junior Kimberlee Gong laughs. Luckily, during Kimberlee's first semester, Westmont added data analytics as a major, and shortly thereafter she was hired as a member of the pilot team for Westmont's Center for Applied Technology Lab (CAT). Throughout her past three years studying data analytics and econ-business, Kimberlee has continued as a senior team member working with the CATLab staff to create software for higher-ed advancement services and investing in a number of other interests.
In her early days working with the pilot CATLab team, Kimberlee primarily utilized her spreadsheet knowledge to transfer data to new Salesforce systems. As others in the office were coding, Kimberlee constructed the foundation for the new framework. Kimberlee reflects how integral her role was as a stepping stone for the CATLab as well as her own growth, "I never thought it would go from putting stuff into spreadsheets and color coding it, moving it around, to scripting of millions of different data points."
Kimberlee interned with Brightbytes — a data-analytics education company researching the predictability of high school dropouts — in San Francisco during her 2018 fall semester with the Westmont in San Francisco program. "What I loved about them was [Brightbyte's] sense of mission that was built into their culture. A lot of people there were teachers that got frustrated with the system and … they want to make an impact on students' lives and they found they weren't able to do that in the classroom." Her internship and other workplace experiences revealed that she values purposeful workplace culture: "I need to have some kind of purpose that is for something greater than myself. I can't just go to work just to do the work."
After a thoughtful pause considering workplace cultures, she states, "A lot of the culture, especially with women in tech, it's not outright prejudice. It's not that easy. You can't just fight against that. It's more about being a woman in tech who's willing to speak up even when things are uncomfortable. You also have to learn how to choose your fights. … In the future I see myself being able to be part of that community by simply being part of that community and also as being a representative [as] a minority woman in tech. Like it's a lot of pressure. I guess I do feel called and obliged to have to speak out, or at least to observe and make notes of what the experience is like and sharing it more." 
Originally from "Fres-yes," California, Kimberlee did not begin with a passion for spreadsheets or solving problems, but artistic expression through ballet and piano. "Like I grew up with a little baby grand just banging on it." Kimberlee motions banging on an imaginary piano. "I'd have my mom put me up on the bench. I was still rolling around and couldn't put myself on the bench." She still plays with the Westmont Orchestra and dances at least once a week at a local studio. With her life-long love for dance, music, and raising healthy plant families, Kimberlee envisions her future work-life-balance as a data analyst, "You can enjoy what you do at work, but even more so enjoy what you do on the side. You don't have to live and work, you can live for everything else too."
About the Contributor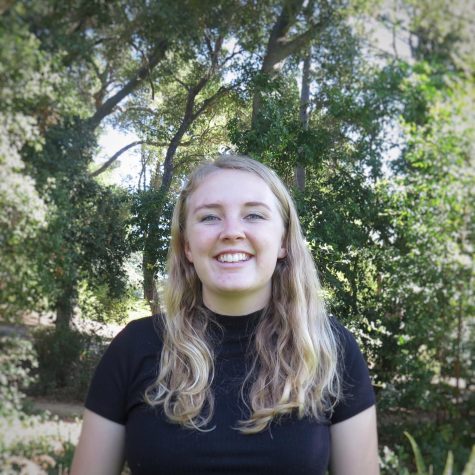 Jada Fox, Students Editor
Jada Fox is a senior English major who wanted to be an astronaut, but settled for cloud-gazing instead.