Don't discount the value of handwritten notes
Learn to be less reliant on tech in your academic life.
And just like that, here we are: welcome to midterms!
Whether this week, last week or this next week, Westmont students are going through their first round of exams for the semester. Voskuyl Library as well as Winter Hall have seen more visitors than usual. Students frantically bury themselves in Google Docs full of in-class notes, extra tutoring sessions via Zoom, and any Quizlet materials they manage to get their hands on.
I'm here to ask how you're studying … and, more importantly, how you can change.
Especially this year, nearly all of our learning, and therefore studying, has been online. We attend hours of Zoom meetings, collaborate on Google Docs, and have political discussions via Slack. All of these are typical studying tools during COVID-19, yet in approaching midterms this semester, I encourage you to rethink your current studying practices. Rather than turning more and more to technology, Westmont students should return to good, old-fashioned study patterns.
To start, try taking handwritten notes. Write out textbook definitions by hand. Every now and then, lose the Quizlet site and try paper notecards. Why, you ask? A plethora of studies show the value of handwritten studying tools. For example, Aaron Richmond and Jordan Troisi from Inside Higher Ed write, "Experimental evidence points out that students perform better on tests when they take notes on paper, rather than on a laptop." Furthermore, Hetty Roessingh from The Conversation states, "For serious students, note-taking is an indispensable cognitive tool and study technique. Creating neurocircuitry for memory and meaning through the hand-brain complex is the key to understanding the value of hand-written notes. Think twice before relying solely on your laptop … !"
Clearly, note-taking by hand is important to academic success. Additionally, taking notes by hand respects the whole person. More than ever, education in this pandemic has been catering to only one aspect of the human being: the mind. The body is completely forgotten in the process. We are seated — motionless, other than the occasional, awkward Zoom nod or chuckle — for hours on end, expected to learn with only half of our humanity.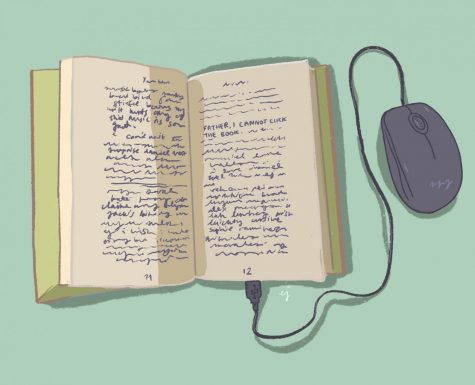 In order to be successful, we need to reincorporate all of us. Some form of movement, no matter how small, is not only essential to who we are, but also essential for true engagement in our work. Handwritten note-taking gives us the room to slow down, process, paraphrase and ask questions. By making handwritten notes and study tools, we create individuated work, focus only on what is most important, and develop summarizing and paraphrasing skills.
You may be asking: how? We are incredibly used to copying and pasting textbook definitions into the standard Quizlet format. We love turning to Google Docs to copy our professors' every word, as if it will be remembered. A great way to start is to find the resources: buy a fun set of pens, notebooks and notecards. Then develop your own personal style. Use outlines, arrows, charts, doodles or whatever else works best for you. Make studying something personal to you.
After all, this is your education, and midterms are no joke. I would encourage you to rethink how you're studying. Rethink your relationship to paper and pen. Maybe, just for this round of exams, try out handwritten studying. You might surprise yourself.
———
Opinions expressed in letters and other editorials, unless otherwise stated, are those of the writers and not of The Horizon staff or the college collectively.