COVID birthday bash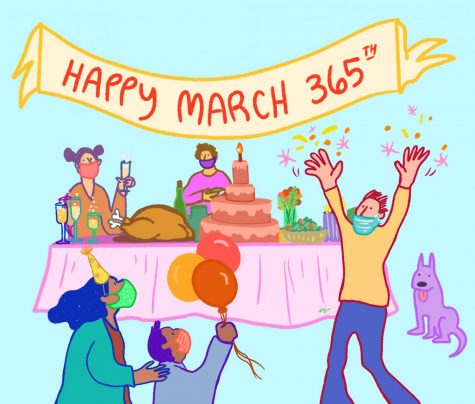 With the upcoming anniversary of COVID-19 and quarantine on March 365th this week, we are throwing a birthday party for the virus. It will take place over Zoom, naturally. The link will be posted on the Capstone page shortly.
If you attend, please pull out the breadmaking videos you never got around to trying, and bring your homemade bread to the meeting. We will all show what we brought as an icebreaker and eat it together, pretending that we are socializing in person and that everything is okay.
To start the festivities after the icebreaker, we will all do a short, 10-minute Chloe Ting workout to get blood flowing and get us all ready to party! After that, the host will share their screen to play a rerun of Tiger King, followed up by another rerun of Outer Banks. 
While these shows are playing, there will be some trivia questions to see who binge-watched the most. Afterward, there will be a TikTok dance competition. Viewers will be invited to imagine what participants' faces look like, since they will be cut off due to the landscape layout of Zoom screen tiles. This activity will also allow viewers to reflect nostalgically upon a year of not seeing peoples' faces, hidden behind masks.
The winner of these games will receive a single roll of toilet paper*.
To end the celebration, there will be a game of Among Us, played in multiple rooms, depending on how many participants attend. An important reminder: Among Us does not involve actual murder. We acknowledge that it has been some time since many students have seen another human being, but the corpses sliced in half on screen do not represent actual people, so do not call the police. For those who get the Imposter role: though the game has the option to kill people, this is not an invitation to stab an annoying roommate — no matter the temptation. We understand your roommate has been keeping you awake while playing Jackbox games with friends until three a.m. every night, but stealing all their valuable toilet paper is a better solution than homicide.
With that, the celebration of COVID-19's first birthday party will come to a close. We hope to see you all at the second quarantine anniversary next year!
*Unfortunately, due to COVID-19, the student will receive their prize and certificate by mail, rather than at an award ceremony.