"A Winter's Tale (interrupted)" wraps principal photography
"A Winter's Tale (interrupted)" wrapped principal photography last Sunday. After months of pre-production, planning, rehearsal and shooting, the Westmont Theatre Arts film project, directed by Theatre Arts Chair Mitchell Thomas, is now entering post-production with a slated release date of April 30, 2021.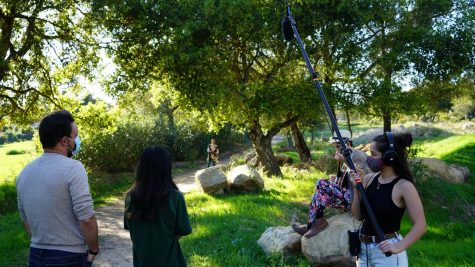 The project, dreamed up by Thomas during the initial quarantine isolation, was shot entirely on campus and in the surrounding Santa Barbara area, strictly adhering to COVID-19 safety guidelines. You can read more about Thomas' initial vision for the project here. Featuring a cast and crew made up entirely of  Westmont students and staff members, "A Winter's Tale" represents a cross-disciplinary initiative to persevere amidst the restrictions COVID-19 has put on artistic expression.
"We've all been having a really good time shooting the film and the students are loving it," Mitchell expressed. "The actors are getting great on-camera experience, and film studies students are getting the chance to work on a feature film as part of their education at Westmont — it's win/win for everyone!"
Thomas continued, "Making a film is a challenge all by itself, but throw COVID protocols in the mix and it's a real bear (Winter's Tale superfan pun inserted…)."
Thomas also expressed that he was "impressed and grateful for the dedicated work of Sean Pratt, our adjunct professor of filmmaking, and the film and theatre students working really hard to make something special for the community."
Lending his film experience and expertise, aforementioned adjunct film professor Sean Pratt served as the director of cinematography, teaching Westmont students valuable and important lessons about how to frame and film in a professional manner. Pratt will continue to assist in the production as the film enters the important process of editing, with students from Westmont's courses Intro to Digital Filmmaking and Documentary Filmmaking also lending support.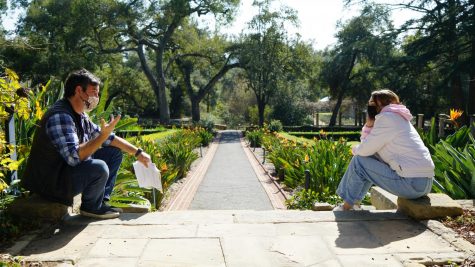 Crucial to the production was Jonathan Hicks, current technical director of the Theatre Arts department, whose tireless work and dedication allowed the filming process to go as smoothly as possible — despite the ever-shifting difficulties of making a movie during the pandemic. Donning multiple hats during the shooting of the film, Hicks supervised lighting, sound maintenance, camera and microphone equipment, among countless other necessary tasks needed to ensure a steady and successful production.
The music for the upcoming film will be spearheaded by Westmont senior Alex Gabriel, who also acted in the project. Previously, Gabriel provided the score for the Fall 2020 Theatre Arts project "Small Enchantments," and is preparing to head into the entertainment industry following her graduation later this spring.
In anticipation of the upcoming work, Gabriel states, "I am beyond excited to be working with everyone, as well as have the opportunity to score something that I acted in as well."
As the film nears its upcoming release, Westmont art professor Scott Anderson is currently producing a poster to be displayed and distributed throughout the college. Be ready to get your first look at the film with this poster in the coming weeks!