Magic is Back at Disneyland Resort
Students reflect on the joys and dangers of the park's reopening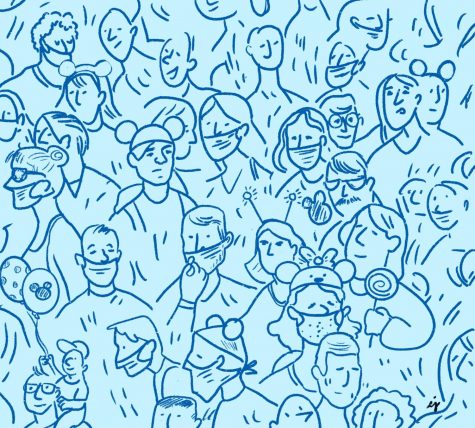 The Happiest Place on Earth, the Entertainment Capital of LA, and other theme parks around California are set to open their gates after over 13 months of closure. Disneyland Resort announced that it will open the theme parks on April 30. Universal Studios Hollywood is expected to open in late April and Knott's Berry Farm in Buena Park will open sometime in May. Six Flags Magic Mountain in Valencia has yet to announce a reopening date, however, the challenge of reopening these parks after an unprecedented shutdown may be more challenging than at first glance.
Disneyland Resort perfectly illustrates these challenges. With its two sprawling parks, Disneyland and California Adventure, Disneyland has only closed down three times in the history of the parks pre-pandemic. These closures followed the assassination of JFK, the Northridge earthquake and 9/11, but this closure will be the longest in park history. Now, theme parks around California must prepare dozens of attractions for daily use, rehire and train thousands of workers, and adopt a slew of new safety protocols that, in many cases, dramatically alter how attractions will operate and how visitors will be expected to behave.
The news of the theme parks reopening comes with mixed reactions from students on campus. According to first-year and Orange County resident Rebecca Li, "Disneyland and California Adventure are super close to my heart [because] many milestones [of mine] have been celebrated there with my friends and family." To many residents of Orange County as well as those from around the world, Disneyland represents a place where someone can indulge in the almost magical atmosphere that seems to permeate every person and place in the parks.
Nevertheless, opening the theme parks to the public comes with many worries and hesitations. Even while controlling the number of people allowed into the parks, there is always the possibility that a mass grouping of people could become the prime event for a mass infection, especially with the reports of a new variant of the COVID-19 virus.  According to CNBC, the third surge of COVID-19 is currently hitting Europe, causing many countries to shut down businesses again, and there also talks in some countries about moving back into a full lockdown.
"I am worried that this move will cause another spike," said second-year Luke Spicer, calling the reopening "premature." While also a very big Disney fan, Spicer fears that a spike will occur if safety mandates are not strictly followed.
Regardless of their perspectives on the theme parks reopening, both students shared the memories made during past visits.
Li expressed that "going [to Disneyland] with my family has been such an incredible time." She loved the memories of "getting a pin, meeting a character … it just makes the day so special."
For Spicer, his best memory of going to Disneyland was when he and a group of friends were able to go on the VIP tour of Disneyland. He ate at Club 33 for dinner, had front-of-the-line passes, and the group even got its own tour guide. "It was an amazing experience. I was so fortunate to be able to go, especially since I'll probably never be able to afford that on my own."
Disney has recently laid out some of its safety protocols that will be put in place for the opening, such as the necessity to make a reservation to attend the park. Additionally, mandatory face coverings at all times and temperature screenings before and during one's time attending are required. Cast members are also set to face many new protocols, such as enhanced cleanliness procedures, operational changes for physical distancing, and reduced contact wherever possible. These procedures can and will make attending the theme parks a very different experience than one would have had prior to the shutdown.
There are, of course, many benefits to the theme parks finally reopening. Looking solely at Disneyland Resort and its impact on the economy of Southern California, in a study by three Cal State Fullerton Economists reported that, in the 2018 fiscal year, Disneyland Resort created $8.5 billion in economic impact and more than 78,000 jobs. 
Whether people are excited for the openings or are more skeptical about it, the opening of theme parks represents more than just the return of their attractions. After what seems like a lifetime in the pandemic, Disneyland and other theme parks finally opening their gates may mean the opening of a new chapter of hope and a happier tomorrow.