Being well-dressed and environmentally conscious
"Dress to impress" takes on a new meaning.
As people become more environmentally conscious, many companies have begun to use the word "sustainable" when marketing their products. A product is considered sustainable if its production and use do not negatively impact our environment, and therefore the lives of future generations.
Similarly, many companies pride themselves on being socially sustainable, which means their products are produced in ethical working conditions. Since this manufacturing style typically requires more funds and effort, the sustainable label is often attached to a high price tag.
The commodification of a sustainable lifestyle has made it seem unattainable for many people, especially college-aged people, which often leads to purchasing fast-fashion products. However, an option exists between expensive, sustainably produced clothing and low-priced, non-environmentally friendly clothes: thrifting.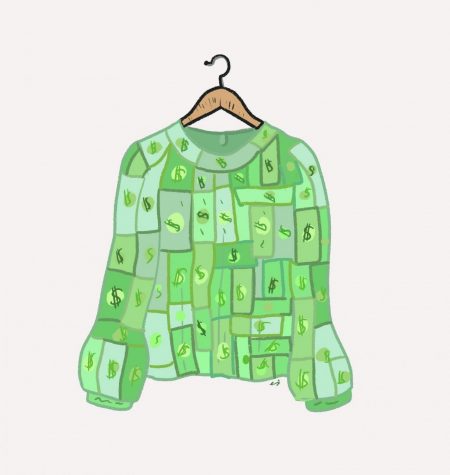 Shopping at thrift stores is one of the few completely sustainable ways of buying clothes. No matter how expensive or reassuring the mission statement is, no firsthand clothing company will be perfectly environmentally or socially conscious in its manufacturing. In Katherine Delaney's article "Why it's time to let go of Free People," she draws attention to the lack of transparency and empty promises many companies have in relation to their sustainable manufacturing techniques. Using Free People as an example, Delaney illustrates how little consumers actually know about a brand's working conditions and production methods.
Purchasing clothing secondhand is one of the only ways a consumer can buy clothes with the certainty that they are not negatively impacting the environment or promoting unethical working conditions. Thrift shopping limits the amount of waste and negative environmental impacts that come with producing new clothing since the purchaser is not contributing to the mass production of cheap clothing.
However, until recently, very few people routinely exercised or encouraged the thought of buying "new-to-you" clothes from a thrift store. With the rise of younger influencers who tend to focus on fashion, such as Emma Chamberlain, thrifting has now become a popular adolescent hobby. With this popularization, thrift shopping has become destigmatized and more fashionable clothes are available at secondhand stores.
Since style trends tend to repeat and vintage clothing always tends to be trendy, thrift shopping is a way of remaining fashionable without spending too much money. As a result, buying clothes secondhand is now seen as a way of having an inexpensive, one-of-a-kind wardrobe. Similarly, thrift stores give financially conservative and environmentally conscious shoppers the opportunity to purchase clothes they genuinely like and feel comfortable buying.
Also, many secondhand stores, such as Buffalo Exchange, Depop and Poshmark, exclusively sell high-end or designer brands. Although these options are not as financially accessible as stores like Goodwill or Salvation Army, they still recycle clothes and limit environmental impact. Unfortunately, these stores allow sellers to occasionally overcharge on many products, most commonly seen on Depop where people sell well-worn or previously inexpensive clothes for more than necessary because of clever captioning and camera work. With the influx of secondhand shopping, people have found a way to profit off others' desires to be sustainable. Many people are willing to pay the high price on these pieces, whether they are secondhand or from a company preaching sustainability, because they hope to be well-dressed while remaining environmentally conscious.
Spending hundreds of dollars at stores that claim to be sustainable is no longer the only way to maintain an environmentally conscious, fashionable wardrobe. As thrifting becomes more popularized and secondhand stores become more common and accessible, the concept of a fully sustainable lifestyle is attainable to anyone interested.
–––
Opinions expressed in letters and other editorials, unless otherwise stated, are those of the writers and not of The Horizon staff or the college collectively.