God, I don't want to talk
Don't be afraid to bring your messiness before God.
In some way or another, we all struggle to articulate how we feel about the things that wound us.
Too many times to count, especially in this past year, I have felt as though I cannot talk to God. Having grown up in the church, I knew that I ought to pray more often — not just when I felt like I really needed to.
I was always told that prayer is not a "fallback" when working through my own solutions to my problems wasn't yielding any success. Even then, my own problems, angers, and fears sometimes felt so overwhelming that I didn't know what to say to God. I didn't want to risk saying the "wrong thing," but I didn't realize that my God already knows my heart and thoughts.I was a fool for thinking I could escape God by hiding my emotions and refusing to let my heart be softened by His presence.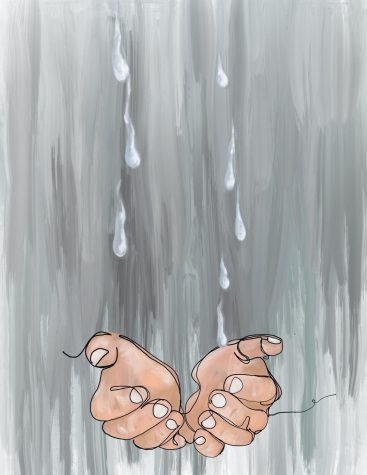 So, in spite of the very present realities of anxiety, stress, spiritual warfare and more, what are Christians to do when we feel truly empty and hopeless? What if we feel so unworthy that we cannot bring ourselves to talk to God? How do you even know what to say when you feel so drained and at a loss for words?
"Ugly prayer" is a way of praying that allows us to open the deepest, rawest parts of our hearts to God in a way that is honest and pleading. The popular Christian podcast "Commoners Communion" features an episode in which the speaker Strahan Coleman talks about his experience with crying out to God in desperation and acknowledges the fact that he is angry and seemingly hopeless. In other episodes, he says that God wants a relationship with His children in which we do not have to hide from Him, including our tumultuous emotions.
It may not work at first. You may be so overcome with fear, anger, sadness or frustration that you don't think you are even consciously talking to God. However, if you have the Holy Spirit, He is interceding for you. Romans says that "the Spirit himself intercedes with sighs too deep for words" (Romans 8:26 NIRV).
I'm sure you're tired of hearing people say that these times are "so hard" and "truly unprecedented," but the truth is that we are collectively living through a time that is formative to our souls in ways we will probably not understand for years to come. So, rest knowing that God hears your laments and that the Holy Spirit is interceding on your behalf.
–––
Opinions expressed in letters and other editorials, unless otherwise stated, are those of the writers and not of The Horizon staff or the college collectively.