New Mayterm Course Offerings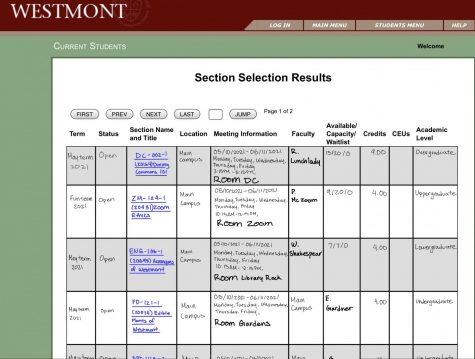 With April fast approaching, you know the drill — it's time to register for Mayterm courses. Because online learning has opened up a variety of opportunities for students to do Mayterm without having to live on campus, Westmont is offering an unprecedented number of Gen Ed Mayterm classes this year. The college has requested that these new course offerings be published in the Horizon. Peruse these offerings below.
Introduction to Zoom Class Ethics
Philosophical Perspectives, 4 units. An overview of influential ethics philosophers within the context of Zoom class. Students will consider the whys and wherefores of common online learning dilemmas from the perspectives of Hume, Hobbes, Nietzsche and more. Why Kant I turn my camera off, professor?
Pandemic Linguistics
Modern/Foreign Language, 4 units. How has a year with COVID-19 changed the way we speak? Students will explore etymology and practice parsing sentences like "Sorry, man, I forgot my mask so I can't go on a socially distanced toilet paper panic-buy with you. We have to flatten the curve!" Masks required even over Zoom.
Dining Commons Survival 101
Exploring Life Sciences, 4 units.* Ever wondered what happens to DC mac-n-cheese pizza after a month in a Page Hall dorm room? Or what goes on behind the Sodexo scenes, cooking up Sriracha cookies and mysterious bread pudding? Take this course to find out, for better or for worse.
*$55 required course fee included to cover the cost of medical care
Fitness for Quarantine Life
PE Fitness for Life, 1 unit. Practice healthy living within small indoor spaces by developing regular exercise habits. Walk laps around your room, do pull-ups from the side of a bunk bed, lift heavy textbooks for sick gains — you'll be fit for life in no time!
Stairmastering the Old Masters
Working Artistically, 4 units. Explore your inner artist with this virtual transformative art class. The instructor will walk students through creating meaningful, beautiful art with only the objects found in their homes. Students will be graded on how accurately they recreate famous historical paintings and other works of art using just the mundane, everyday items already at their disposal. M. C. Escher optical illusion Stairmaster recreation, anyone?
All the above classes are now open on WebAdvisor for registration. Sign up quickly before courses fill up!