"Made In China"
Tiana Krukar's path to understanding her Asian American identity through Asian Student Association
"Cultural estrangement." After a long pause, Tiana Krukar, a junior chemistry and psychology major, quickly nodded and said the words once more. "Cultural estrangement." 
As she reflected on her life as an Asian American, Krukar found that those words were the most reflective of her experience. Being Asian American carries the weight of not only an individual's identity, but also the identity of their ancestors and where they originally came from. It's the picking-and-choosing of how people perceive Asian Americans that changes on a day-to-day basis. 
"For me, I was essentially 'Made in China,' and how America sees me is as Chinese, even though, culturally, I have only experienced American culture."
Krukar was adopted by her Taiwanese mother and white father who have both done great work to show her the different cultures that they grew up in.  
"Chineseness is very apparent in the foods I prefer, the little Chinese I speak, and my phenotype. In a place like the Bay Area [where I live], my Americaness is very apparent in how we don't cook traditional meals, how little Chinese I speak, and having a white dad."
Krukar grew up with the beautiful biculturality that allowed her to explore parts of her American father's culture as well as her Taiwanese mother's. Her childhood was filled with the pleasant duality of going on church trips with her dad and other predominantly white participants, filled with activities like gutterball, canoeing and archery, and going to different alley restaurants with her mom in Chinatown, San Francisco. Memories of going outdoors and doing activities with her father were closely coupled with listening to cooks shouting across a popular Chinese restaurant while waiting in line with her mother. The different activities were distinct but combined together in a way that Krukar would comfortably embrace especially in the Bay Area, known for its diverse population and various cultural opportunities.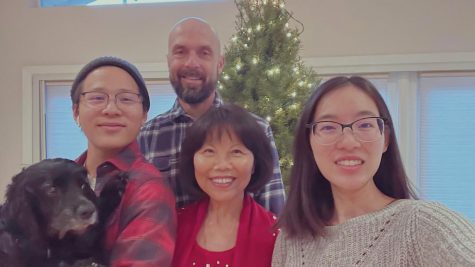 "I think my experience was one that allowed me to explore my culture without significant pressure due to being in an area that openly embraces [both]." 
Part of this exploration happened in school. As a lot of students can empathize with the abrupt transition filled with voice cracks and popularity contests moving from middle school to high school; but the common desire was to fit in. For Krukar, that desire manifested itself in addressing two different parts that defined her as a whole. 
Krukar's middle school was similar to Westmont in that it was a private Christian school that had a similar demographic. Because she was the demographic outlier there, she found herself hiding away some aspects of her personality and her background that she would never compromise now. 
High school, on the other hand, had larger class sizes of students with similar backgrounds as Krukar. She proudly showed off her hobbies, appearance and foods that were no longer indications of an outlier, but the marker of being a part of the norm. She describes high school as a time where she "felt more accepted for whatever quirks [she] had."
Not only that, but her friends in high school grew up with similar backgrounds, since a majority of Krukar's peers came from various mixed households with Asian, white and Latinx combinations.
"Whether we knew it or not, we related to this biculturality and not relating perfectly to a certain culture."
Starting the college application process, Krukar discovered Westmont through its notable science department. Upon arriving, she looked up at the people around her and found herself an outlier once more. In the chaotic energy of Page Hall, Krukar bumped into other students who were also a part of the outlying community. Together, they began going to the Asian Student Association, or ASA, of Westmont's Intercultural Programs (ICP).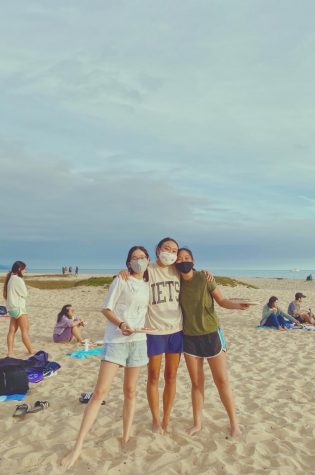 "It was a great time to meet other first-years from the other dorms as well as provide a chance to get away from DC food given the monthly potlucks everyone would cook for."
ASA created a lot of tender and fun memories, and she soon made her way up to becoming a part of the leadership team. A club that once simply held a space to socialize with other students soon became something much more. 
"Historically, ASA tends to be one of the quieter organizations in the ICP sphere and, as a result, tends to focus more on issues within the AAPI community rather than branch out to larger issues of race in the U.S."
However, taking up the title of a leader required Krukar to stretch her understanding of the greater national sphere of systemic issues regarding race. Former ICP director Jason Cha's Racial Justice Study Series class was a particular game-changer for Krukar and her understanding of the greater Asian American experience as well as her own. 
"ASA and ICP have been a place where I can indulge in celebrating parts of my culture, further educate myself on the history of how America's racial divides got to be, and explore the intricacies of the many different subcultures that make up the Asian 'monolith.'"
ASA was a social-club-turned-educational until COVID-19 changed everything. Around this time last year, students were sent home due to the exponential rise of COVID-19 cases from a new coronavirus that originated in Wuhan, China. Since then, the rise of xenophobia and number of direct attacks against the Asian community have been growing alongside the number of cases. On March 16, 2021, tragedy struck in Atlanta, Georgia. A shooter took the lives of six Asian women, one white man and one white woman. There was only one survivor of the shooting. This shook Krukar and the Asian community as a whole. 
"
[I felt] anger at a society that allows these types of mass shootings to occur; a numb sadness for the families of the victims…"
— Tiana Krukar
"[I felt] anger at a society that allows these types of mass shootings to occur; a numb sadness for the families of the victims, many of which had immigrant backgrounds which had parallel elements with my mom's family or friends I know; and a general anxious concern that these are the things I as an Asian woman in society will always be hyper-aware of."
Krukar notes that these instances of hate are not new and there is still much work to be done, not just in the context of Westmont College, but in the nation as a whole. Westmont students and community members have all felt the weight of the tragedy and Krukar emphasizes that, though acknowledging injustice is "a good first step … it doesn't just stop there."
While Westmont is "known for its rigorous study and academic approach to faith, culture and society," Krukar notes that the institution also has "a duty to acknowledge how it, too, can play into these biases or silencing of voices that are 'other' than the historically dominant voice." The college cannot stop at just learning about the complexities of societal, governmental and historical structures. 
To address the tragedy, Westmont College publicly announced a statement of solidarity to support the AAPI community at the school. However, Krukar felt that this was not enough. 
"
A loss of any life is inexcusable and causes us all to evaluate ourselves to confront our prejudice and see how we may be intentionally or unintentionally hurting members of our community."
— Tiana Krukar
"While I appreciate statements of solidarity [with the AAPI community], that does little in the long run to make future [students'] experience at Westmont better or less isolating. What happened in Atlanta should be devastating to all of us. A loss of any life is inexcusable and causes us all to evaluate ourselves to confront our prejudice and see how we may be intentionally or unintentionally hurting members of our community."
Westmont College has grown in a variety of ways since its foundation. The college emphasizes its mission to seek out cultural diversity and have an open mind towards learning about other perspectives and backgrounds. Krukar hopes that the college can continue to try to live up to its mission.
"As Westmont boasts about the diverse student body it attracts, I hope the college can become one where a diverse student body feels comfortable …  and at home and accepted." 
Movements do not happen simply because there is a new injustice, but because a community has been silent and hurt by the system for too long. Krukar states that this collective hurt across different movements "cannot be removed from Christian spaces, despite the intention and desire to embody a 'perfect church' … We are a broken people and our history reflects that."
Krukar acknowledges that the work done to create change will be slower than one may hope, but "the motivation to leave Westmont a better place for future students like me is my encouragement to continue advocating for Asian and BIPOC voices."
To the people of color on campus, Krukar hopes to inspire them to "continue to hold the institution and its people accountable for their actions or lack thereof."
"I hope we get to a place where the emotional and physical labor of calling the institution and community's attention to these issues will not always lay on the students' shoulder[s] and that we collectively strive to be more inclusive."