Santa Barbara's 36th annual International Film Festival is vibrant … and virtual
Santa Barbara's most star-studded cultural event, the Santa Barbara International Film Festival (SBIFF), has swapped rambunctious red carpets for Zoom meetings and throngs of theater-goers for seaside drive-in screenings in the 36th celebration of the annual festival. While this year's production looks different, its lineup of films and honorees remains as impressive as ever.
The festival opened Wednesday, March 31, with a premiere of Aaron Maurer's documentary "Invisible Valley," which investigates the irony and injustice of wealth inequality in the Coachella valley. Through contrasting the marginalized existence of a family of farmworkers with the lavish lifestyles of Coachella valley residents and music festival attendees, Maurer tells the family's story with conviction and hope.
While SBIFF features over one hundred films — including short, feature-length, local, international, online and on-demand — equally noteworthy are its educational panels of producers and writers, many of whom are women. In its virtual live special events, SBIFF honors a host of creatives, including: Bill Murray ("On the Rocks") for the Maltin Modern Master Award, Carey Mulligan ("Promising Young Woman") for the Cinema Vanguard Award, Sacha Baron Cohen ("The Trial of the Chicago 7," "Borat Subsequent Moviefilm") for the Outstanding Performer of the Year Award, Amanda Seyfried ("Mank") for the Montecito Award, and Delroy Lindo ("Da Five Bloods") for the American Riviera Award. An additional 23 actors, screenwriters, directors and crew members are honored in the Virtuosos, Variety Artisans and Outstanding Directors of the Year awards.
Roger Durling, director of the Santa Barbara International Film Festival, deemed The Virtuosos Award his favorite live special event, which honored Riz Ahmed ("Sound of Metal"), Maria Bakalova ("Borat Subsequent Moviefilm"), Kingsley Ben-Adir ("One Night in Miami"), Andra Day ("The United States vs. Billie Holiday"), Sidney Flanigan ("Never Rarely Sometimes Always"), Vanessa Kirby ("Pieces of a Woman"), Tahar Rahim ("The Mauritanian"), and Zendaya ("Malcom and Marie") for their "noteworthy performances in film [which] have elevated them into the national cinematic dialogue."
Durling praised the actors for how "they made us cry, they made us laugh … [and] helped us dream," adding wistfully, "that's why I've always loved the movies."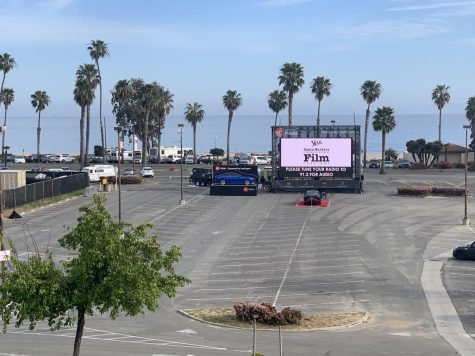 The Virtuosos Awards began with a chills-inducing montage followed by individual interviews with the eight actors, who joined from their living rooms around the world — Tahar Rahim zoomed in from Dubai at four in the morning. Riz Ahmed called in and received his first Academy Award nomination for "Christmas." Ahmed called his seven months of five-hour-long practice sessions to learn "nonverbal communication" — drumming and American Sign Language — for the film a "gift." In answering moderator Dave Karger's question, "Where does your fearlessness come from?", first-time Academy Award nominee Maria Bakalova said, "If you jump, you might start flying … if you're nervous about something, it means that you're passionate about something … so do it … be brave."
Together, Ahmed, Baklova, and the remaining honorees highlight the power of film to inspire and resonate with the human heart, whether through centralizing underrepresented communities or finding comedy in modernity.
SBIFF closes Saturday, April 10, with a compilation of "Santa Barbara shorts," which range topically from ecological restoration to the rise of SB Rollers (Santa Barbara's rollerskating community group), and are available online and at the drive-in at Santa Barbara City College.