Santa Barbara Bowl reopening
The Santa Barbara Bowl, Santa Barbara's premier concert venue and the historic host of Westmont's iconic "Spring Sing" event, has recently released a few dates for rescheduled concerts. This, coupled with the foundation's reassuring promise of more events to come, brings hope to many.
Concert-lovers everywhere have been asking the same question since last March: "When will we get to go to a concert again?"
At times, this return to concerts has seemed somewhat close and at other times it seems incredibly far away, but nevertheless, concert junkies have persisted with the hopes of one day gathering together again. That time, we are excited to learn, is within view.
The summer lineup does not boast any especially prominent names at this time and focuses on a slow start, so as to limit the demand for tickets due to occupancy rules. Artists such as Jason Isabell and the 400 Unit, Slightly Stoopid and Rebelution will all grace the Santa Barbara stage starting in mid-July. In addition, John Legend is booked for September dates and there are plenty of whispers about more cancelled shows being re-booked.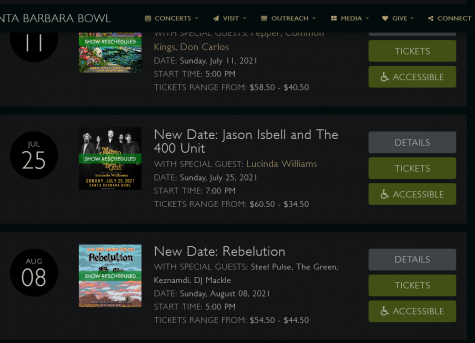 The Bowl is not just a special place for the Westmont community; it holds a rich history nestled in the hills of Montecito. Originally constructed in 1936 by local stonemasons to depict "Old Spanish Days" events and pageants, it came under the control of the Santa Barbara Bowl Foundation in 1991. After 40 million dollars worth of renovations and community support, the Bowl now boasts a seating capacity of 4,500 people and has been the home of many prominent artists over the years.
Many in the Westmont community are excited to return to live events, both for the enjoyment and for the milestone it will become. Sophomore concert-lover Aleah Schepps explained "I think it's going to be standing at a concert that I realize we've made it through [the pandemic]."
Whether it be the excitement of being in the presence of live music again or a deep love for the Santa Barbara Bowl, people are excited about the concerts to come at the Bowl.