How the justice system continues to fail the marginalized
The roots of the issue go deep.
In light of the killings of George Floyd and Breonna Taylor, police brutality has been a prevalent topic in the conversation of racial and social equity in the United States. However, it is a misconception that police reform will end the justice system's contribution to systemic oppression. I argue that the entire justice system needs reform. This system is set up to perpetuate the oppression of the marginalized. There needs to be a conscious effort to reform a structure that targets the very people who ought to benefit from it. As of now, marginalized groups are affected most by the defects of the justice system. Poverty-stricken communities, people of color (POC), and sexual and gender minorities (SGM) seem to receive less help and more punishment from the justice system. This structure sets the marginalized up to fail.
I will admit, I was one of the passionate-but-clueless people who was convinced that police reform would be the key to ending systemic oppression in the justice system. It is easy to think that. The media has done a great job at shifting the focus to police brutality, making Americans believe that that is where our problem really lies. "If we defund the police, it will all get better." This is a fallacy I have been telling myself for a long time. I have been genuinely convinced that defunding the police will magically stop systemic oppression.
In fact, that's the thing about systemic oppression — it is structural prejudice woven into a system, creating unbalanced power dynamics and inherent disadvantages to certain people groups. Police reform will definitely get us a step closer to social equity, but the police cannot be reformed without changing the entire justice system.
I could not make this connection until I heard about a six-year-old Black boy who was arrested for picking a flower in North Carolina. This little boy was arrested after he picked a flower from someone's yard as he waited for his bus. He had to appear in juvenile court to face charges of injury to real property. Obviously, the case was dismissed.
After hearing about this, I was confused. To me, it did not make sense to arrest such a young child for something so trivial. Furthermore, how can a six-year-old legally be expected to go before a judge in a juvenile proceeding? North Carolina's lowest minimum age for entering the juvenile justice system is six years old, which also happens to be the lowest age minimum in the world. According to The Sentencing Project, Black American juveniles were four times as likely to go to juvenile prison as white American juveniles were. According to North Carolina's Juvenile Justice 2018 Annual Report, out of 23,488 juvenile complaints, 52% of them were about Black juveniles. All of this information spells out systemic oppression.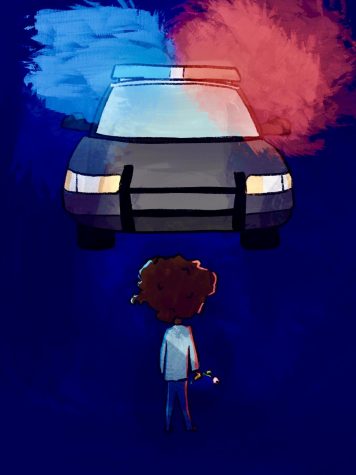 There is a clear implicit bias here. Not a lot of people would call the police on a six-year-old for picking a flower, but I expect that no six-year-old child would be arrested and taken to court for this. In this country, a Black child is an exception to these expectations. In this country, all Black people become exceptions to what society should view as otherwise common morals and ethics. Unfortunately, most of the time, a Black child cannot just walk away free from court. In Detroit, Michigan a fourteen-year-old Black boy like Davontae Sanford can be forced to confess to a quadruple murder he had absolutely nothing to do with and spend nine years in prison. Apparently, it was easier to pin this murder on a Black teenager than Vincent Smothers, the grown adult man who actually committed the crimes. The detectives went out of their way to force a confession out of a Black child who had no evidence against him, and the judge and jury went along for the ride.
It's pretty obvious how this system disadvantages minorities. In a state where over 50% of all juvenile complaints are on Black juveniles, a six-year-old can be arrested and sent to court for picking a flower. This type of oppression is happening all over the United States. Implicit biases are leading to unethical and wrongful arrests and prosecutions throughout this country and little has been done to stop it. Mix that fact with the epidemic of mass incarceration, wrongful and malicious prosecution, and this country's long history of racial and social inequity, and it's hard not to see how the justice system is contributing to systemic oppression.
Reconciling oppression and racism in this country is a hard feat. But if this society can come together and confront this plague, we can be one step closer to equity. I encourage anyone who seeks this reconciliation to confront their prejudices, implicit biases, and privilege. Look into your heart and ask yourself if your actions reflect love. When we confront our problems, instead of placing a bandaid over them, we can bring the reform that this country needs. Until the entire structure has been rebuilt, starting from the hearts of the people, the justice system will continue to fail the marginalized.
———
Opinions expressed in letters and other editorials, unless otherwise stated, are those of the writers and not of The Horizon staff or the college collectively.