I'm vaccinated: now what?
You've refreshed vaccinateca.com fifty times. You've managed to get an appointment at 8:00 a.m. an hour north in Santa Maria. You've never wanted to inject mRNA into your upper arm so badly before. Capstone, you ask, it's been so long since I've lived life without fear of getting COVID-19. What can I do again, now that I'm vaccinated?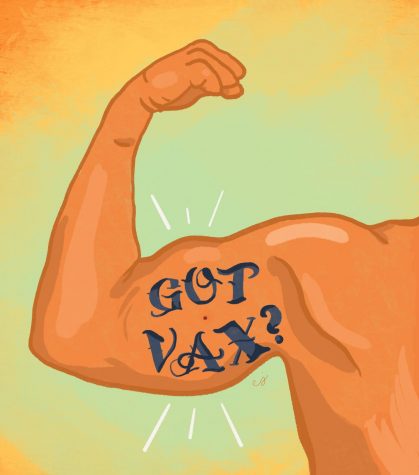 Good news: you can now take off your mask inside your dorm room, since, of course, you were wearing one around your roommate before. Stand in the middle of your room and breathe deeply — the smell of dirty laundry, week-old DC coffee, and the trash you haven't taken out since January is the smell of freedom.
It's important that everyone knows you're vaccinated, so put those appointment-booking skills to good use and get "I survived a pandemic and all I got was this stupid tattoo" tattooed on your arm over the injection site. Surely even your parents will understand the emotional significance of this tattoo and not give you any grief for it. 
Getting vaccinated is an exciting milestone, and you deserve to celebrate. Why not take a vacation? End your semester early — who needs to study for finals when you can hop on a plane without needing to get tested for COVID-19 or self-quarantining? A two-week trip to Iceland is the best way to spend your hard-earned scholarship money.
If none of these ideas sound appealing, you can also get another vaccine to relive the moving experience of getting your COVID-19 vaccine. Spice things up a bit: get a flu shot. Get the HPV vaccine and a Tdap booster shot. Already got the Moderna vaccination? Go get a Pfizer one too! Surely a Johnson & Johnson COVID-19 vaccine wouldn't hurt either.*
*The Capstone is not responsible for any side effects that result from following our medical advice. If you experience any of the following symptoms: shortness of breath, heart palpitations, an inexplicable longing for DC meatloaf, a sudden desire to ride the Westmont shuttle until the driver kicks you off, or find that all of the stickers on your Hydroflask have suddenly disappeared, please see a licensed medical professional, such as your pre-med roommate.